Hosting an Adult Slumber Party
Slumber parties aren't just for squealing teenage girls. Adults can host an slumber party, too. Sleep overs are a great way to reenact wonderful memories of youth or to just relieve some stress from an overbooked life.
Preliminary Steps
An adult slumber party host or hostess has some unique challenges that don't have to be considered while planning your average get-together.
Guest List
Most adults have good friends of both genders and must decide if both sexes will be invited to the celebration. It is wise to consider the feelings of all the guests you are considering inviting and think about whether or not the majority of people will be comfortable if guests of the opposite sex is present. If you do decide on a co-ed party, here are some ideas to help make it the most successful party possible.
If you are planning on actually sleeping at your slumber party, consider having two separate sleeping areas. For instance, designate the living room for the female guests and the family room for your male guests.
Make sure that everyone has adequate bathroom time. Think about setting-up a vanity in a spare bedroom where guests can get dressed in private, do make-up, or do their hair, which will help reduce some of the bathroom time needed by guests.
Make sure that all guests are aware that the party will be co-ed so they can bring appropriate sleep-wear and can decline the invitation if they don't feel comfortable.
Be sure to invite couples. It would likely be considered inconsiderate to invite a spouse to a slumber party without including their significant other.
Create a guest list of people you would feel comfortable enough with to invite for an overnight stay. It's best not to invite guests who may have conflicts with each other which could create drama. You may also want to decide whether or not you want to allow guests to bring a date.
Choose a Date
Choosing the right date for your event is important. Most working adults will likely not want to disrupt their daily lives during a work week, so consider having the party on a Friday or Saturday night. Also think of those who may have children, and choose a date far enough in advance so they can arrange for childcare.
Location
Having the party at home is an obvious choice, but for those who have a small house or housemates who might not want to have a party, this could be a challenge. Consider these alternative locations:
Hotel
A slumber party at a local hotel can be a lot of fun and can provide additional optional activities for guests such as swimming or grabbing coffee in the lobby. Consult with the hotel manager to see if there are discounts available for larger parties and what their rules are for the number of guests per room. If you are planning on staying-up late, ask the hotel front desk if it is possible to be in a less populated area of the hotel, perhaps on the bottom floor where other hotel guests won't be disturbed by party goers walking or perhaps dancing. Also, remind slumber party guests that they have to be quiet and respectful of other people in the hotel who might be trying to sleep.
Campgrounds or Backyard
Reserve a spot at a local campground or pitch a tent in the backyard. If the weather is nice, this type of slumber party can be a good alternative to one in the home. Ask guests to provide their own sleeping bags and other personal comfort items. Depending on the number of guests expected, you might also want to borrow a tent or two from friends. Other items that might be helpful for an outdoor party is extra blankets, hand sanitizer, paper towels, and a power source where guests can charge their hand-held devices.
Destination Cabin or Condo
Destination parties can be a lot of fun and provide plenty of activities to make a party successful. Check-out local lakes and popular hiking and fishing spots or hotspots in urban areas. Renting a cabin or condo get expensive, however, so be sure to include the rental in your budget or request that guests chip in a small amount for an evening of fun. These locations also provide built-in activities for your group, making the rest of the planning easy.
Invitations
There are a variety of options for slumber party invitations, including a simple email and store-bought invitations. You might also want to hand-make some invitations or simply just call your circle of friends with a verbal invitation.
Adult Themes
Choosing a theme for a party can be fun, and can help the host or hostess make other decisions such as color scheme and what types of snacks to serve. A few adult themes include:
Hollywood: Everyone likes to be treated as if they were rich and famous, even if it is for one night. Rent a projector, screen and a stack of favorite or classic movies for an evening of fun. Roll-out the red carpet, or at the least, a roll of large red paper for guests to walk on when they enter the party venue. Be sure to provide popcorn and various other snacks for guests to enjoy.

Glow in the dark: Provide guests with glow sticks which can be purchased at the local dollar store. Set-up black lights and give each guest a plain white T-shirt and some neon or glow-in-the-dark fabric paint that they can use to decorate it. Crank-up the music and a few low lights for safety reasons and let the glow-in-the-dark dance party begin.
Giving back party: Turn your fun event into a meaningful experience. Buy supplies for various different craft projects and ask guests to create useful or decorative items that can be sold to raise money for charity or that can be donated to those in need. Crafts that could be sold to raise money include beaded jewelry and painted pottery items. Knitted scarves, mittens, and blankets can be donated to homeless shelters or organizations who help the needy.
If you are still stumped about a theme, borrow theme ideas from children's slumber party themes and put an adult spin on them, such as a spa or game night theme.
General Decorations
If you choose not to have any particular theme for your party, consider decorating with slumber and sleep-related items. Buy or make large pillows and provide warm blankets and throws for guests to get cozy on sofas or lounge chairs. You can use fresh flowers, balloons, and streamers to help liven up the party area.
Food
Depending on the start and end times for your party, you could potentially have to provide for three different meals, plus snacks for the guests. Before creating the menu, consider any dietary restrictions for guests. Some guests may be diabetic, gluten-intolerant or have an allergy to peanuts or another type of food. It is best to ask guests about these restrictions before the party to avoid any trouble on party day. Theme-appropriate foods can help tie the party together, as well, so keep that in mind if you've chosen a specific theme.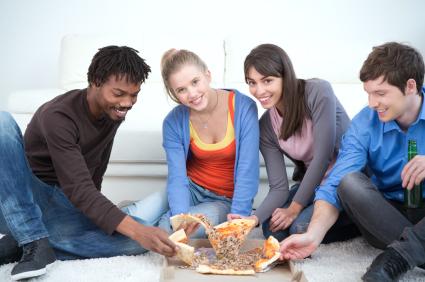 Dinner
If guests arrive around dinner time, you'll have to provide a meal for them. Pizza is always a good choice, as most people enjoy it, it is inexpensive, and can be delivered. You may also want to have a barbecue or picnic outdoors, or ask guests to contribute to a potluck.
Snack and Finger Foods
Whether you're planning on watching a movie, playing games, or just sitting around talking, snacks are important for any party. Consider a mix of healthy snacks and delicious treats:
Fruit and veggie trays
Meat and cheese trays
Popcorn
Potato chips
Pretzels
Chocolate candies
Licorice
Breakfast Foods
There are a variety of different ways to serve breakfast to slumber party guests. A continental breakfast is an easy option and might include something simple like donuts, yogurt, and fruit. You might also want to have a breakfast buffet with scrambled or hard boiled eggs, pastries, potatoes, and sausage or bacon. An omelet bar is also a fun way to provide breakfast.
Beverages
Have plenty of bottled water on hand to help keep guests hydrated throughout the evening. Also have some cans of various types of pop on-hand. Alcoholic beverages might make the evening more enjoyable for folks, but be sure to verify that all guests are of legal drinking age in your area. Coffee and orange juice will help complete the breakfast menu.
Activities
Keep guests busy and entertained with a variety of activities. There are plenty of things to do at a slumber party, from setting up a fun photo booth to dancing. Sleep over games are also a great choice, and they can range from classics like Truth or Dare to board games. If you want to make your party even more memorable, engage in a few harmless pranks. Just be sure you aren't causing anyone stress or harm.
Favors
Its nice to provide guests with small gifts which help them to feel special and give them something to take home to help them remember the party.
Slumber party related items such as slippers, pillow cases or nightcaps are appropriate favors for any slumber party.
Toothbrushes, toothpaste, and any other person hygiene item can also be used.
A small container full of snacks for guests will also help to ward-off midnight munchies.
Favors can also be theme-related items, like a movie rental ticket for Hollywood night.
Plan a Pajama Party with Ease
Planning an adult slumber party can be a lot of fun, but can also require a lot of planning and consideration. With some strategic organization, it can be stress-free.