Pinkies up! Planning a tea party for kids is an exciting event parents should host more often. It's a great way to expose the kids to a different type of event that's considered mostly suitable for adults only. Time to tailor your tea party to kids so they can feel fancy for a day and enjoy a special time filled with delightful tea party treats, games, and a lesson on tea party etiquette and table manners.
Kids Tea Party Invitations
The first step in planning a tea party is to choose invitations.The invitation is what sets the mood for the party and gives the guests an idea of what to expect. Be sure to include any important details on the invitation. For example, if you would like your guests to bring their favorite dolls or stuffed animals to the party or if the children are supposed to dress up for the event, this should be noted on the invite.
Fancy Tea Party Set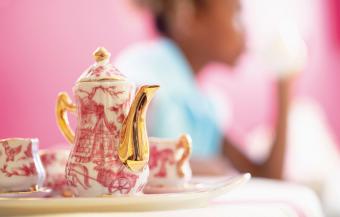 Break out the fancy tea party set to and get the kids excited to say bye-bye to their plastic tea party toy set for a day. A traditional tea set is a classic combination of the teapot, milk jug, and sugar bowl. The tea set designs will help you decide on the style and color palette of your tea party.
Make Tea Bag Cookies
These sugar cookies mimicking tea bags are a darling addition to your tea party table. Displayed them in a porcelain footed bowl for a sweet presentation and delight the little guests in attendance. For extra fun, attach a personalized tag using coordinating bakers twine.
Serve Delightful Tea Sandwiches
To make tea sandwiches more appetizing for the kids, serve peanut or almond butter & jelly sandwiches, ham & cheese and to slip some secret veggies into the kids sandwiches, simply shred fresh veggies, such as cucumber, carrots, radishes and mix them with cream cheese to create a delightful veggie spread. Removing the crust and using a cookie cutter for fun shapes, such as hearts and stars, will also make tea sandwiches more appealing to the kids as well.
Have a Pink Rosette Layer Cake
Whether you are planning on baking and decorating a rosette cake for the party or ordering it from your favorite local bakery, make sure the roses will hold their shapes by opting for the right type of buttercream and use a 1M star tip decorating tool for the ultimate billowy rose details.
Serve Cupcakes in Teacups
It's all about the presentation. Display pretty cupcakes in fancy porcelain teacups and be ready for all the excitement.
Create a Tower of Donut Holes
Arrange donut holes on a dessert stand forming a tower. Embellish with fresh flowers or greenery for a pretty presentation.
Make a Giant Macaron Cake
French macarons are the perfect treats for a fancy tea party, so why not add a creative spin to your event by making a giant macaron cake? See instructions on how to create your own.
Using an 8-inch round pan, Bake any cake you'd like.
Cut your cake crosswise in half using a sharp knife.
Add pastel food coloring to a buttercream recipe.
Use a spatula to frost the top and bottom of the cake. Refrigerate to allow the buttercream to harden.
Put the bottom half on a pretty cake stand. Use a piping bag to add a generous amount of white buttercream on top of the bottom half of the cake. Allow to harden.
Place the top half of your cake on top of the white buttercream to make a "sandwich".

Pipe buttercream on the edges of both halves, using a fork to swirl the buttercream to make it look like a macaron shell.
Plan Fun Tea Party Games, Crafts, and Activities
Every child's party needs an assortment of activities to keep little guests busy and entertained. Here are some fun ideas to consider:
"Pin the Lid"
Pin the Lid the Teapot Game: Similar to "Pin the Tail on the Donkey", the kids will pin the lid cut out on a large printed teapot while being blindfolded. Whoever gets their lids closest to the teapot wins.
Organize a Sugar Cube Stack Competition
Divide the players in teams of two and whoever can create the tallest stack of sugar cubes in 45 seconds wins a fun prize.
Play Tea Bag Toss
Pick up used teapots at your nearest second-hand shop and purchase inexpensive tea bags for this fun tea bag toss game. Mark a line using painter's tape for the kids to stand behind. Have the participants toss the tea bags aiming for the pots.
Ask Guests to Bring a Stuffed Animal
Encourage imaginative play by asking guests to bring their own stuffed animals for a sweet tea party playtime with their furry friends.
DIY Ceramic Tea Cup Planters
Have ceramic teacups, acrylic paint in different colors, brushes, and artificial flowers for the kids to design their own teacup planters.
Other Tea Party Activities
Party activities should be planned in advance to make sure you have all necessary tools and supplies for the selected activities.
Dance to the I'm a Little Tea Pot song.
Read a book such as Miss Spider's Tea Party.
Decorate hats with silk flowers or make sparkling princess crowns for each guest.
Decorate plain cupcakes with an assortment of sprinkles and pretty edible flowers.
Play dress up and give each girl and boy a picture of the group to take home.
Teach the Kids Proper Tea Party Etiquette
A tea party is the perfect opportunity to teach etiquette and table manners. Etiquette should be encouraged and learned through easy and fun demonstration. Here are a few examples on how to make your tea party an enjoyable learning experience for the kids.
Place your napkin on your lap.
Don't talk with food in your mouth.
Don't reach across others for an item on the table, but ask for it by saying, "Please pass the…"
Don't slurp or smack your lips.
Don't clink your spoon on the side of your cup as you stir.
Pass the salt and pepper together.
Don't do all the talking
Don't push food onto your fork with your finger.
Don't move your plate away when you've finished.
Blow Your Guests Away
Whether you are hosting a fancy or more casual tea party, make it fun and memorable for the kids with creative ideas that will blow them away and keep them talking about it for many years to come.