Planning a Child's Tea Party
A child tea party offers children time with friends, make-believe and real. It also affords an opportunity to learn how to exercise hospitality in a fun atmosphere that encourages manners and the art of entertaining.
Child Tea Party Invitations
The first step in planning a tea party is to choose invitations.The invitation is what sets the mood for the party.
Child tea party invitations can be purchased or hand made using specialty children note cards to aid in creating invitations with a theme. One popular idea is to purchase invitation paper and cut invitations into the shape of a teacup to be decorated and personalized by your little hostess. If you don't know where to start, check online invitations for possibilities. You can also purchase premade tea party themed invitations from most larger party supply stores.
Be sure to include any important details on the invitation. For example, if you would like your guests to bring their favorite dolls or stuffed animals to the party or if the children are supposed to dress up for the event, this should be noted on the invite.
Creative Tea Party Themes
Themes for a child tea party can vary from traditional topics like a Teddy Bear Tea Party to cultural interests including current popular movies like Over the Hedge or Happy Feet. Such themes open the door to an array of tiny forest animals as tea party guests.
Storybook Tea Parties
Just like using a popular children's movie to create a theme for a child tea party, you can create a storybook theme unique to your child's favorite children's book. Storybook themes can include characters like:
Cinderella
Alice in Wonderland
Winnie the Pooh
Snow White
Peter Rabbit
The fun of hosting a storybook tea party is that the theme caters to the child's interest and gives them a fun and interesting way to celebrate that interest.
American Girl Tea Parties
This is a perfect party theme for little girls that like to still play with dolls. Guests bring their favorite American Girl Doll or the doll of their choice to an American Girl tea party.
Teddy Bear Tea Party
Stuffed animals make perfect guests in many a pretend child tea party, so what better reason to actually host a tea party that incorporates these stuffed animal guests? In this case, you can create teddy bear invitations with stickers, or even cut them in a teddy bear shape. For fun, young girls can dress their teddy bears up for the occasion.
Dress Up Tea Party
Before the party, visit thrift stores and garage sales to gather old dresses, jewelry and purses. You might even check with mothers of some of the other girls to see if they have items they'd like to donate for the dress up affair.
When the girls arrive, let them hunt through the box of clothes picking and choosing the items they want to wear to make their fashion statement. Once they've tried things on, made their choices and helped each other get dressed, it's time for tea.
Tea Parties for Boys and Girls
Although the child tea party most often caters to young girls, there's no reason not to include boys and girls in a tea party. Young boys and girls enjoy dressing up in clothes that are too big, and have favorite movies and storybooks. Of course boys may bring a super-hero or two with them as a party guest, but a child tea party exposes both boys and girls to etiquette and good manners while having fun.
Decorations and Favors
Soft and pretty pastel colors work best for a tea party theme. Lavender and cotton candy pink are always good choices for any event catering to little girls! Rhinestones and glitter, when used sparingly, can add a nice touch to tea party decorations as well. Other decorations to use include:
Layer several floral print fabrics to make your own tablecloth
Form a canopy over the center of the table with streamers or tulle
Tie large ribbon bows along the back of each chair
Silk flower arrangements in old tea pots to use as centerpieces
Create pretty place cards with each guest's name
Gather some of your favorite dolls and stuffed animals around a miniature tea set
Place flickering battery-operated flameless candles inside tiny teacups for a fun lighting effect
Party Favors
Party favors and goody bags aren't technically necessary, but it is nice to send each guest home with a small memento from the day. The simplest favor is to fill a teacup with small candies. Wrap the cup in cellophane and tie it with a bow. An alternative is to print off tea party coloring pages and give each child a small homemade coloring book and a box of crayons.
Tea Party Food Ideas
The meal for your tea party can be fairly simple. Obviously, tea sandwiches are the traditional staple for a tea party of any sort. Some kid-friendly takes on this idea include:
Cucumber and cream cheese
Egg salad
Turkey or ham and cheese
Peanut butter and jelly
You can make your sandwiches more appealing by using cookie cutters to create decorative shapes. Hearts and stars are a natural choice for a little girl's tea party. For the rest of the meal, the goal is to choose foods that are somewhat elegant yet still attractive to finicky young taste buds. Some good ideas include:
Fruit kabobs
Chocolate covered strawberries
Pasta salad
Cupcakes
For beverages, traditional hot teas may not be very appealing to young guests. Iced tea, lemonade or a fancy pink punch are good alternatives to consider.
Fun Games and Activities
Every child's party needs an assortment of activities to keep little guests busy. Here are some fun ideas to consider:
Dance to the I'm a Little Tea Pot song
Read a book such as Miss Spider's Tea Party
Decorate hats with silk flowers or make sparkling princess crowns for each guest
Decorate plain cupcakes with an assortment of sprinkles and some edible flowers
Play dress up and give each girl a picture of the group to take home
Proper Tea Party Etiquette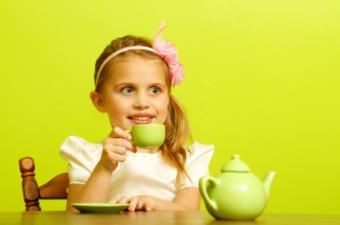 Tea parties are perfect place to teach etiquette and table manners. Etiquette should be encouraged and learned through example. Here are a few examples:
Place your napkin on your lap
Don't talk with food in your mouth
Don't reach across others for an item on the table, but ask for it by saying, "Please pass the…"
Don't slurp or smack your lips.
Don't clink your spoon on the side of your cup as you stir.
Pass the salt and pepper together.
Don't do all the talking
Don't push food onto your fork with your finger.
Don't move your plate away when you've finished.
Consider the age of the children attending the party. Don't make etiquette so strict that they don't have fun. Instead, allow the tea party to be an enjoyable learning experience.
Fun for All
The most important consideration for any child's tea party is to make it fun. Be sure to include activities and games that everyone can participate in and that the day is filled with lots of laughs and fun.