Called the Spring Festival or Lunar New Year, Chinese New Year is the most important holiday to Chinese families. Much like the American Christmas, Chinese families follow different traditions to prep and celebrate this holiday. Explore the different traditions like cleaning, shopping, family dinners, fireworks, dances and more.
Traditions Leading Up to Chinese New Year
The weeks leading up to the 15-day Chinese New Year celebrations are full of different traditions that are important for prepping the home and getting ready for the family reunion. Explore some of these pre-celebration traditions.
Sending the Kitchen God to Heaven
Many families have an image of the kitchen god, Zao Jun. Prior to the Spring Festival, the kitchen god will be given an offering and his image, which hung in the kitchen, will be burned so that he can go to heaven to report on the family. A new picture will then be hung during the celebration.
Cleaning Out the Old
Chinese New Year is a time of getting rid of the old and bringing in the new. People typically sweep everything in their own and purge their old things in the days leading up to Chinese New Year. This works to get rid of the evil spirits and negativity while making room for the new things they will be receiving and buying. Some families might even use bamboo leaves for cleaning since these are good for removing evil and bad luck.
Holiday Shopping
A fun tradition for many is shopping for Chinese New Year. Not only are they shopping for gifts, but clothes, food, decorations and items they will need for the coming celebration. While some might hit the stores and stalls that have popped up for the celebration, others might do their shopping online.
Chinese New Year's Eve Traditions
The eve of the Chinese New Year is an exciting time with lots of activity. In addition to putting up decorations and hanging a new kitchen god portrait, families gather to enjoy one another and give offerings to ancestors.
Putting Up Decorations
Red and gold adorn the streets and homes for the coming Chinese New Year celebration. Decorations include:
Chinese lanterns in red and gold on trees and doors
Door couplets, brush works of Chinese calligraphy, pasted on doors
Paper cuttings, typically in red, of plants and animals that mean good luck
Decorated kumquat trees, which symbolize luck and wealth
Blooming flowers for spring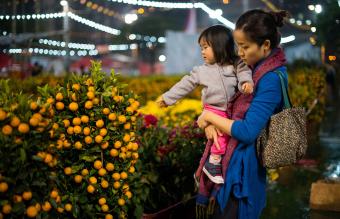 Offerings to Ancestors and Gods
Families typically set up ancestral tablets and other symbols of past generations in their home. Food and good fortune fruits may be provided as an offering. Families will then pay their respects by kneeling before them.
Having a Reunion Dinner
Usually the largest meal of the year, this traditional meal brings the family together. Food eaten during the meal typically has significance for wealth and prosperity like dumplings and fish. This family time is much like the get-togethers that happen on New Year's Eve in America where everyone gets together to wait for the ball to drop. Only in China, they are waiting for the fireworks to bring in the new year.
Chinese New Year's Day Traditions
The Chinese New Year celebration officially starts when the clock hits 12. The family fun and activities don't stop with the Chinese's New Year's eve. They typically keep the party happening well into the night.
Firecrackers and Firework Displays
Much like the ball drop on Times Square, fireworks ring in the new year at 12:00am on Lunar New Year's day. Bringing in the new year with fireworks and firecrackers is a historical traditional. Not only is it beautiful, but the noise of the firecrackers and fireworks are for scaring away evil spirits including the dreaded Nian, a vicious legendary monster that destroyed houses on Chinese New Year's Eve
Shou Sui
Shou Sui is the practice of staying up late into the night to ring in the new year and spend time with family and friends reminiscing about the past year. Not only do adults partake in the Shou Sui but kids might as well.
Giving Red Envelopes
Red symbolizes luck. Therefore, the giving of red envelopes, typically with gold writing, it considered as giving lucky money to families. While the money is important, the tradition of passing on blessings and luck for the coming year is equally important for Chinese families.
Lion Dance
The lion dance is a traditional dance that is performed during the Spring Festival. Representing power and wisdom, the lion dance is designed to bring luck and prosperity for the year to come. The lion also works to chase out any remaining evil spirits.
Additional Chinese New Year Traditions
Since Chinese New Year lasts for 15-days, there are other traditions that are completed during that time. Visiting families, having parties and meals are big along with these other traditions.
Visiting Temples
Praying for good luck is a big deal during the Chinese New Year. Families or individuals might go to temples to worship or light incense. Typically, they pray for good luck and prosperity for the year to come. Some temples might have fairs with calligraphy art, hand crafts, and goods.
Lantern Festival
On the last day of Chinese New Year, you'll find the lantern festival or Yuan Xiao Festival. Per the name, Chinese lanterns are the main attraction during this day. People might put wishes on lanterns and release them or they might put riddles on them that others might solve. In addition to lanterns, the lantern festival features parades, stilt walkers, lion dances and more.
Things Not to Do on Chinese New Year
While there are many things that you should do during Chinese New Year, there are also superstitions and taboos that you should avoid to have the best and most prosperous year. A few things you should not do during Chinese New Year include:
Do not sweep during the first few days of the holiday. You don't want to sweep away your good luck.
Negative words should be avoided so you don't jinx your family or friends. Saying words like death could bring death.
Borrowing money is just asking for debt in the new year. This is a big no-no.
Washing your hair is also bad. You are washing away your good luck.
Breaking things is also bad luck. But if you do, say Sui Sui Ping An which means "May you have peace year after year."
The Traditions of Chinese New Year
Chinese New Year is full of several amazing traditions that families do during their celebration. Just like Americans might have their own unique traditions and activities during Christmas and New Year, Chinese families might also have theirs as well.