Bar Chef Shares Party Drink Tips and Recipes
Jacques Bezuidenhout is an extraordinary bar chef with a talent for preparing high quality cocktails. He took time out of his busy schedule to share a bit of his experiences, tips on making the best mixed drinks, a couple of great drink recipes, and how to identify bartenders who can make the best cocktails.
Interview with Jacques Bezuidenhout
LoveToKnow (LTK): You seem very passionate about cocktail making. How did you get into this profession?
Jacques Bezuidenhout (JB): Like most others, I started working in bars and restaurants while in college and trying to get into the marketing business. I quickly discovered it was a lot more fun behind a bar than at a desk. Once I visited my first distillery I was hooked and felt a sense of place. Also, once I learned more about cocktails I got into it a whole lot more. How can you not be passionate about cocktails and great spirits?
Create a Great Cocktail
LTK: What are your top tips for crafting the perfect cocktail?
JB: The first thing is balance. Always find balance in your drinks when it comes to the flavors. One flavor should not dominate or overpower any other flavors. Use quality spirits. Life is way to short to drink bad booze. I always say that what you save the night before on cheap drinks you pay for the next day in your hangover cure. Ask a professional in a quality store for a few recommendations.
LTK: The best cocktails require quality ingredients. What are some of the most exotic liquors and flavors you use with your drinks?
JB: I love playing with Sherries and table wines lately. They add another flavor profile to the cocktail. I have fun playing with herbs and spices in certain drinks. My favorite obscure liqueurs are spirits like Chartreuse, Amaro's and Campari.
Luxury Cocktails
LTK: There is a rumor that you have created some of the most expensive cocktails, with one having a price tag of $650. Is this true? If so, what kind of ingredients do you use, and who buys them?
JB: Yes, it is true. Harry Denton wanted me to come up with the Million Dollar cocktails for the Starlight Room. I said I would do it if I could do it my way. I did not want to just make an expensive Margarita or Sidecar. So I set out to create unique cocktails around these rare spirits that would build up their flavors. I came up with four different cocktails using flavors like a walnut liqueur and a red tea from South Africa, as well as a beautiful Chateau D'Yquem, in a tequila cocktail. Generally, the consumer has some expendable income and wants to try something new and unique.
Popular Cocktails
LTK: What are the most popular cocktails of the current season?
JB: Everyone is into classics again: the margarita and the mojito. The margarita is always popular, but people are now expecting more from this classic cocktail. It has been butchered for far too many years. All you really need is quality tequila and fresh lime juice. My favorite thing is the Partida Margarita where they use 100% organic agave nectar in their margarita. It's a great twist on the original and delicious. All you need is Partida tequila, fresh squeezed lime juice and agave nectar. It's absolutely delicious. Again, it goes back to using quality ingredients and fresh juices.
Bezuidenhout's Least Favorite Cocktails
LTK: Are there any cocktails that you will not prepare?
JB: Some. I don't like to make the ones with silly names and really don't taste of anything but sugar. I like to make fresh, balanced drinks that taste of their base spirit.
How to Get the Best Drinks at the Bar
LTK: Cocktails can be expensive, and everyone wants to get the best drink for what they spend. What are some tips to find out if the bartender behind the counter is worth dishing out the cash?
JB: I always either do the negroni or margarita test. If they look at you like you are crazy after ordering a negroni or they reach for a beer, then I stick to enjoying a beer and tequila. If they make my margarita without fresh squeezing the lime juice and reach for terrible tequila, then I get personally offended.
Easy Cocktails
LTK: For those of us that like to entertain at home and serve cocktails, what are some good party drinks that are easy to prepare?
JB: I always stick to the simpler drinks like the mojito, margarita, martini or the long forgotten Pimms cup. This way you can prepare some drinks ahead of time and also have your guest be interactive. With the margarita, you can fresh squeeze some lime juice and pre-batch the cocktail, and you can do the same for the Pimms cup. For the mojito, you could put mint and other fresh fruit out and have your guests create their own. Then for the martini, you can get a selection of quality gins and vermouths with an array of garnishes and let them play.
Personal Experience and Advice
LTK: As a professional bartender, you must have some interesting experiences. Tell us about one of the biggest, most memorable parties you have ever mixed cocktails for.
JB: I have made cocktails for celebrities and such, and I am always surprised how most of them are very controlled. The craziest time I am ever behind the bar is either St. Patrick's Day or Cinco de Mayo. These are always the most festive and you always witness some very fun but bizarre behavior. Anything can happen at any given time and that is always the most interesting and fun.
LTK: If someone were interested in becoming a "master mixologist," what advice would you give them?
JB: Learn everything you can about cocktails and spirits. Love what you do because if you don't, it becomes work!
Jacques Bezuidenhout's Party Drink Recipes
Jacques' drink recipes will add a great touch to any occasion.
The Heavenly Dram
Contains: Macallan 25-year, Pedro Ximanez Sherry , lemon juice and honey syrup. Served on the stem.
1 1/2 oz Macallan 25-year.
3/4 oz Pedro Ximanez Sherry
1/2 oz lemon juice
2 bar spoons honey syrup
Macallan 25 year Single Malt (Established 1824)
This is known as The Chateau of Malt Whisky. The Macallan is located in the Speyside region of Scotland. Macallan is known for its rigorous standards and exceptional quality. Macallan has some of the smallest copper stills in Scotland, which produce a very dense rich spirit. Mostly it is recognized for its Sherry barrel-aging program. Macallan buys Spanish-grown oak and has it coopered in Jerez. Then they loan the barrels to Sherry Bodegas to age sherry in for a couple of years before shipping them back to Scotland to fill with Whisky.
The Macallan 25-year is an exceptionally complex whisky. It has a subtle smokiness that is enhanced with dried fruit & cinnamon notes from the Sherry Casks. The finish is long and dry.
Sacristia de Garvey Pedro Ximenez Sherry
Pedro Ximenez is a Spanish grape varietal and commonly used to make Sherries. Generally this is a sweeter style Sherry. This Pedro Ximenez Sherry from the Garvey Bodega has some Sherry from 1860 in the Solera blend. This Gran Orden Sherry is dark, rich and is described as smelling the perfect raisin.
The Cocktail
As Macallan is known for its Sherry wood influence, I wanted to enhance this by adding Sherry into the mix. I wanted to add a little sweetness to the drink so I decided on the Pedro Ximenez Sherry. This particular one has incredible raisin flavors. This adds to the 25 year Macallan, which also has dark fruit and nutty characters from the use of Sherry barrels. The honey syrup adds great flavor and a silky mouth feel. The fresh lemon juice balances all the flavors.
Drinking the Stars
Contains: Chateau De Ravignan 1979 Bas Armagnac infused with Madagascar vanilla bean, orange peel, raisins and served with Dom Perignon.
1 1/2 oz Armagnac infusion
Serving per Table:
6 oz Armagnac infusion
Bottle of Dom Perignon
Dom Perignon
This is one of the most prestigious and well known Champagnes. The Benedictine Monk Dom Perignon is credited with inventing or discovering Champagne. The best fruit is used for this Champagne, and it ages for seven years on the lease before we are able to drink it. It has great citrus and toasty notes and the bubbles are magical: so much so that Dom Perignon upon his discovery was quoted as saying "Come I am drinking the stars."
Chateau de Ravignan 1979 Armagnac
The making of Armagnac dates back to 1411 long before Cognac. It essentially uses the same grape varietals but only goes through a single distillation in a Alambic Armagnacais still. Therefore Armagnac is often more robust and rich. Chateau de Ravignan is one of the most well respected Armagnac producers in the region. The 1979 is an incredible Armagnac and it has apricot, vanilla and raisin notes with a long finish.
The Cocktail
It is traditional in Gascony to make different Champagne cocktails with Armagnac. I wanted to add to the raisin and vanilla notes of the Armagnac, so I infused the Armagnac with raisins, orange peel and Madagascar vanilla beans. This adds a little sweetness to the spirit and makes it exceptionally rich in flavor. By adding a small amount to a flute full of Dom Perignon, the whole cocktail comes together. The toasty citrus in the champagne work well with the Armagnac. Each bubble that comes to the top brings out more of the Armagnac's flavor.
Angels Share
Contains: Remy Martin Louis XIII, Domaine Charbay Walnut Liqueur, Porto Rocha 20-year Tawny served in a snifter washed and flamed with Chartreuse VEP.
1 1/4 oz Louis 13th
3/4 oz Charbay walnut liqueur
1/2 oz Rocha 20-year port
1/8 oz Chartreuse VEP
Remy Martin Louis 13th
The art of Cognac lies in the Master Blender of the house. It is his job to blend different barrels of Cognac at different ages together to create a masterpiece. In the case of Louis the 13th, the youngest Cognac in the blend is 40 years old. There is a small amount of cognac in the blend that is up to a 100 years old. This is an exceptional Cognac with many complex flavors and a finish that goes on and on.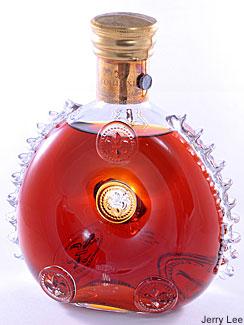 Domaine Charbay Nostalgie Black Walnut Liqueur
Domaine Charbay is a small distillery located in St Helena. The family has decades of experience in the art of distillation. They infuse black and English walnuts in their own brandy for two years. They finish of the liqueur by blending it with herbs & spices. This is a delicious liqueur with dark, sweet walnut flavor.
Rocha 20-year Tawny Port
This 20-year tawny from the Douro region in Portugal has a rich nutty flavor that works well with the other spirits. It is an aged tawny that picks up many dark fruit and nutty notes through the barrel aging.
Chartreuse VEP
The Carthusian Monks have been making this elixir since the 1600s. The VEP is 108-proof and contains 130 different plants and herbs in the spirit. Only thee monks know the recipe. This elixir is wonderfully herbal and rich.
The Cocktail
This cocktail I do not mix with ice, as all the flavors are very complex but delicate due to all the years spent in wood. I wanted to add to some of the nutty flavors of the Cognac by using the walnut liqueur and the port. The port gives the cocktail a little acidity and tannins. The snifter is heated by setting the Chartreuse a blaze. This burns off much of the alcohol in the Chartreuse and adds a great dry herbal finish to the cocktail.
Elegancia
Contains: Partida Elegante, Chateau D'Yquem 1994 Vintage Sauternes, Rooibos tea and orange bitters served on the stem.
1 1/4 oz Partida Elegante
1 oz Chateau D'Yquem
3/4 oz Rooibos tea (only grown in Cape Town)
Orange bitters
Partida Elegante
This 100% agave tequila is one of the benchmarks in super premium tequilas. This anejo tequila spends up to 38 months in used bourbon barrels. Because of the hotter climate in Mexico, it is the equivalent of a 20-year old single malt or a XO Cognac. This is phenomenal tequila that has complex wood flavors and a deliciously rich agave flavor.
Chateau D'Yquem 1994 Vintage
This Premier Cru Superieur Sauternes from the Sauternes region in France is one of the most renowned dessert wines. They are known for their noble rot wines that have incredible aging potential. There have been tastings with D'Yquem from the late 1800's. These wines are incredibly rich with apricot and orange blossom flavors.
Rooibos Tea
The Rooibos tea leaf is grown on the mountains in Cape Town. They are known for their antioxidant qualities and contain no caffeine. This particular tea has great orange and orange blossom flavors with some tannins.
The Cocktail
The D'Yquem has apricot and orange flavors that work really well with the tea and compliment the tequila. As the flavors in the tequila are complex but delicate, I could not use orange juice or citrus juice as it over powered the tequila and the Sauternes. The tea has delicate flavors that bring it all together. The orange bitters dry the flavors in the cocktail and provides a perfect finish.
Drinks for Special Occasions
While Jacques' drinks contain expensive ingredients, they may be just the recipe you are seeking for your next special occasion.