Halloween Party Decorating Ideas
Eerie Enhancements
No Halloween party is complete without enhancing the setting with some spooky, scary or eerie decorations. The decor will set the mood for the entire party, from a horrific scene to a cute kids' corner. Make sure your decorations create the right atmosphere for your Halloween bash.
Fun Table Settings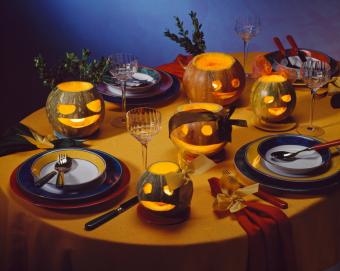 Set the table with lots of spooky decorations, such as small carved pumpkins with candles inside. Consider using battery-operated candles for safety reasons, especially for a child's party. Napkins and table covers can be orange and black, with Halloween motifs. Go all out with festive decorations that will make eating at the party fun.
Halloween Tree Ornaments
Decorating a tree is a simple way to dress up your Halloween party space, whether the party is being held indoors or out. If you don't want to decorate an entire tree, spray paint a large branch black and place into a black pot.
Pick up jack o'lantern, mummy, skeleton, and monster face ornaments at a party supply store to hang on your tree. Consider going with a color theme or choosing just one or two ornaments in order to make a statement. Look for scary ornaments if your party is for teens or adults, while cute ones are perfect for a kids' party.
Outdoor Decorations
The decorations you use outside are just as important as indoor ones. A simple lawn ornament, such as this ghost, makes a surprising greeting for your guests when they arrive at your party. Other options include tombstones, hanging ghosts, and faux spider webs, all of which can jazz up the outdoor decor. You can make decorations yourself or go to a party supply store and purchase them there.
First Impressions
Decorate your front porch with lots of pumpkins and a big bale of hay for a warm welcome without a scary overtone. Add other festive touches such as witches, ghosts and goblins to the mix and you will delight anyone who sets foot on your doorstep. The front porch will set the stage for your party and give guests an idea of what fun is waiting for them inside.
Scary Spiders
Decorations can be placed almost anywhere, both inside and out. Hang some scary spiders around the party area as a creepy addition to the room. Another idea is to get a fake spider web, hang it in the corner of the room and throw a few plastic spiders on it for a special touch. These spider webs can also be placed on bookshelves and chairs, or drape them over doors and along window panes.
Eerie Lighting Ideas
Lighting is an important part of your Halloween party decor. Great ideas for creating some appropriate lighting include:
Renting candelabras from a party supply store and placing them strategically throughout your party area.
Hanging orange, black or purple strands of twinkle lights around the party space.
Making luminaries with scary monter faces cut out on the front.
Using black lights for a unique twist on Halloween party lights.
More Haunting Ideas
Some other Halloween party decorating ideas to consider are:
Hang a sign or banner that says Happy Halloween in the main area of the party.
Use orange and black balloons and streamers as decorations. You may be able to find balloons with pumpkin faces, ghosts or even with a spooky scene.
Rent a fog machine to create a creepy atmosphere at the party.
For even more great Halloween ideas, check out:
Body Parts for a Halloween Party
Scary Halloween Party Supplies