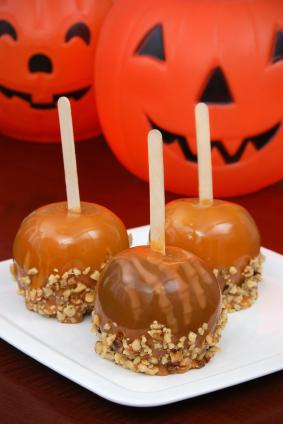 Have a few delicious Halloween party recipes on hand that are easy to make, using fall flavors and Halloween themes that will perfectly suit the event. This helps to simplify planning your Halloween party so you can focus on all of the other elements of the gathering.
Yummy Halloween Party Recipes
Halloween party recipes can run the gamut from pumpkin cookies to ghostly cupcakes. For those who are looking for something quick and easy to make, cupcakes decorated with orange and black icing or cookies shaped like pumpkins are quick fixes. However, if you want to get a bit more creative, the following Halloween party foods aren't difficult to make, and add variety to your party menu.
Mummy Sausages
You'll want to make these right before the party begins so the pastries are light and warm.
Ingredients:
1 package of small sausages (cut up hot dogs will work, too)
2 pastry sheets
1 egg
20 cloves
Directions:
Slice each pastry into thin strips.
Wrap strips around the sausages creating a "mummy" appearance.
At one end of the sausage, leave a small opening for the face.
Add cloves to the face to create "eyes."
Beat the egg slightly, and dip the mummies into the beaten egg.
Place mummies on a greased cookie sheet.
Bake at 350 degrees F for 12 to 14 minutes.
Ghostly Bananas
This is a yummy and good-for-you treat that kids love!
Ingredients:
Bananas
White chocolate bars
Chocolate chips
Directions:
Choose bananas that are ripe but still firm, and cut each banana in half at its width.
Insert a popsicle stick into the bottom of each banana half.
Cover each banana with wax paper and freeze until firm. This will take three or four hours.
Melt white chocolate in the microwave.
Roll banana in melted white chocolate, or spread chocolate on the banana with a knife.
Add chocolate chips for eyes.
Refreeze the banana until you are ready to serve.
Ghostly Brownies
This is another great recipe that's very easy to make. To begin, you can either make brownies using a mix or try the following simple brownie recipe.
Ingredients:
1 cup sugar
½ cup butter or margarine
2 eggs
5 tsp. cocoa
½ cup flour
½ tsp. vanilla extract
White fondant
Chocolate chips
Directions:
Beat eggs in a large bowl. Add the rest of the ingredients and mix thoroughly.
Place in a greased pan, and bake at 350 degrees F for 20 minutes.
To give a "ghostly" look to the brownies, cut brownies into squares after they have cooled.
Round off one end of each square to create the shape of a ghost.
Cover each "ghost" with white fondant.
Add chocolate chips for eyes, nose, and mouth.
Instead of rounding the edges of square brownies with a knife, you can also cut brownies out using a ghost shaped cookie cutter. Crumble scraps to use in Halloween dirt cake instead of chocolate cookies.
Monster Caramel Apples
Who doesn't love caramel apples? This Halloween recipe adds some spookiness to the traditional caramel apple.
Ingredients:
5 or 6 medium apples, or 7 or 8 small apples
40 to 50 soft caramel candies, individually wrapped
2 tbsp. milk
Popsicle sticks (can be found in an arts and crafts store)
Gummy worms
Chocolate chips
Raisins
Directions:
Place a popsicle stick into the top of each apple.
Mix unwrapped caramels and milk in a microwave-safe bowl, and microwave for 1½ to 2 minutes.
Stir the caramel mixture until completely smooth, and let cool.
Hold each apple by its stick and roll or dip apple into the melted caramel.
Place apples on a greased cookie sheet.
Immediately add candy to the apples so it will set into the caramel.
To create a "monster," attach gummy worms as hair and chocolate chips or raisins as eyes, ears, and nose into the caramel.
Happy Halloween Eats and Treats
Having some fun themed recipes for Halloween makes everyone smile when they see the party food. From simple Halloween cupcakes to more complicated gross recipes for Halloween, your buffet table is sure to be a hit with all your guests. Scrumptious spooky eats and treats are perfect for a Halloween party!