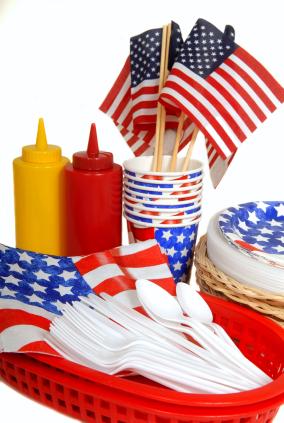 Don't stress over how to make patriotic party favors when the solution is simple. There are so many types of patriotic party favors that can be used for your next celebration that the possibilites are endless.
Types of Patriotic Party Favors
Having favors at your party shows your guests that you appreciate them coming. A favor serves as a memento of the day and is something that guests can take home to remind them of the fun they had. Of course for a patriotic party, such as the 4th of July, your favors must be red, white and blue. Some common patriotic party favors include:
Sparklers
Noisemakers
Leis
Beads
Hats
Horns
Mini American flags
Balloons
Remember, party favors do not need to be elaborate. They can be kept simple. A great idea is to use the party favors as decorations. Scatter some around a table to give the table setting a patriotic look. Favors add an element of fun to any celebration. Making your own will not only save money but show off your creative side as well.
How To Make Patriotic Party Favors
Edible Favors
Often a homemade treat can serve as a party favor. Guests will appreciate the extra effort you took to make the festive treats. Some edible party favor ideas include:
Cupcakes decorated in red, white and blue. Add a festive American flag to the center of each for an extra special touch.
Sugar cookies in the shape of stars adorned with red, white and blue sparkles.
Red, white and blue candy
If you are planning on sending your guests home with an edible treat, then wrap each one in clear cellophane and tie with a patriotic bow. You could also use red, white and blue netting tied closed with a ribbon. Place each edible favor on a table and they can double as a place setting.
Festive Fun
Try one of these simple ideas for a patriotic favor that will be fun to wear:
Purchase inexpensive red, white and blue beads to string and make your own necklaces or bracelets. Give guests one to wear as they enter the party.
Ribbon featuring stars or stripes can be tied into bows and glued onto pins to wear as a decoration.
Be creative. There are endless possibilities out there waiting for you to try. A great place to start is your local craft store where you may be inspired with what is available on the shelves. Learning how to make patriotic party favors does not require much craft experience. Do something simple that you feel comfortable with for the best results.
If All Else Fails
If you decide to purchase your favors instead of making your own, there are many places to shop. Most party stores and discount stores offer a wide range of party favors. Shop close to the specific holiday to get the most recent favors and perhaps even find them on sale. Party City has favors for various special occasions to choose from. Examples include top hats, tiaras, frisbees, leis and even fans.
Oriental Trading has a patriotic section on their site filled with a variety of novelty items. The selection includes flag bandanas, leis, necklaces, beads, glow-in-the dark items and even noisemakers. The Mega Patriotic Assortment has a little bit of something for everyone. It contains 25 top hats, 25 glittered tiaras, 50 9" horns and 25 soft leis in patriotic colors.
At Shin Digz you can find some unique patriotic favors such as:
Votive candle holders
Pom poms
Buttons
Mints
Patriotic bubbles
Of course, you can choose to copy something you find in a store and make your own version. Many favors could be easily duplicated at home. For example, to duplicate the votive candle holder, all you need is a clear votive cup and a candle in either red or blue.
When To Use Patriotic Favors
Patriotic favors can be used for many different celebrations. Some holidays where they would add a festive touch include:
4th of July
Memorial Day
Veteran's Day
Flag Day
They also work well for any summer celebration or for any event where fireworks are planned. You can never go wrong with red, white and blue!
Ending Thoughts
The next time you want to show your American pride, incorporate some patriotic party favors into your celebration. They will not only show your guests that you appreciate them sharing your day but will add an element of fun to any event you choose to use them at.