What's the Occasion?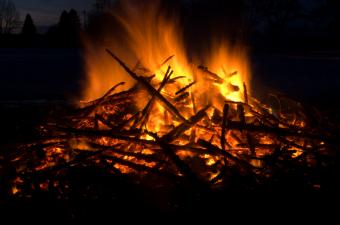 You don't need to have a special reason to start thinking of ideas for a bonfire night party. However, a roaring fire can be an unforgettable way to mark a special event. For birthdays taking place in a suitable season, a bonfire is a unique party activity. Teens can enjoy a school-sponsored bonfire after a Homecoming football game. If you're hosting a wedding reception or graduation open house in your home, head to the backyard to end the evening by firelight.
Ideas for a Bonfire Night Party
A bonfire is usually a casual affair, so your invitations can be similarly informal. For friends who always stay connected, an evite may be the best way to let them know about the event. For printed invites, play up the fire aspect with images of campfires and flames.
Provide Seating
Look out for your guests' comfort by thinking about seating before your party. Not everyone will enjoy sitting on the ground, especially if there has been wet weather lately. Large logs placed around the fire ring are a popular seating choice. Lawn chairs and portable camp chairs are another easy way to sit in comfort by the fire. If you don't have enough chairs, ask guests to bring their own on the invitation.
Food Ideas
Take advantage of those roaring flames in planning your party menu. Make grilled cheese and other warm, gooey sandwiches with camping pie irons. Guests can have fun cooking hot dogs on sticks. Of course, no bonfire would be complete without a chance to roast marshmallows for s'mores.
Fireside Entertainment
Guests gathered around a fire often provide their own entertainment with singalongs and storytelling. Encourage guests to bring guitars and their best singing voices. A battery-powered radio or mp3 player can provide extra background music. Have a few ghost stories or amusing anecdotes ready to start the sharing of tall tales.
Stay Safe
One of the best ideas for a bonfire night party is to keep safety in mind at all times:
Build your bonfire in an area clear of leaves, grass, twigs and other flammable materials.
Build a fire ring for extra safety.
Children and teens should always be supervised around a fire.
Avoid drinking alcohol.
Keep water and sand close at hand for controlling the flames.
Never leave the fire unattended.
Don't leave the fire until it is completely extinguished. Even a few embers can be dangerous.
Make a Day of It
If you're planning a bonfire night party, the event doesn't have to be limited to the evening. A bonfire on the beach can be a great way to end a day of fun in the sun. Cap off the family reunion with some bonding by the flames. ---- Whether you're celebrating a holiday like 4th of July or looking for unique adult birthday party ideas, a bonfire is sure to make an impression on your guests.