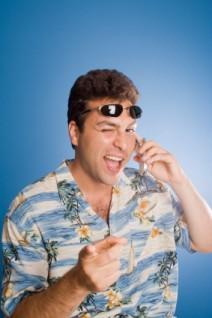 Use indoor beach party ideas to help make any party a hit. From graduation to birthdays to rainy days to corporate events to a mid-winter break party, an indoor beach party can be fun for anyone.
Set the Beach Scene
To help create a beach-like atmosphere indoors, you will need to decorate the area with beach-related items. You can choose to narrow the theme's focus by decorating with a particular aspect of the beach, like surfing or colorful fish.
Get the party started right by choosing an invitation that reflects your theme. Ask that everyone wear their favorite summer attire and their sunglasses.
Decorate your home to reflect the beach. Folding chairs with umbrellas are a good seating option, as are beach towels spaced along the floor. Hang inflatable beach balls from the ceiling set up inflatable palm trees in the corner.
More decorations to help you set the mood include:
Remember to keep any small items out of children's reach and to keep ceiling décor high enough so no one will hit their head. Place assorted seashells and starfish along mantels, windowsills and coffee tables to really tie everything together.
While beach party music can be great for teen parties, you may want to consider using an ocean surf background CD for corporate parties where adults will need to converse.
Indoor Beach Party Ideas: Activities
A beach party just is not the same without a fun activity for everyone to do. Limbo is a perfect game for both young and old. A hula-hoop contest is another fun way to break the ice and get everyone on their feet.
Of course, if you have a lot of space, nothing says beach like a sandcastle contest.
Sandcastle Contest
Cover the floor of a separate room in plastic. Purchase small plastic kiddie pools and fill with sand. Have shovels, pails and castle molds for each pool. Divide everyone into teams, save for three judges. Set a timer for 30 minutes and allow everyone to work while the judges stay out of sight, perhaps helping prep food. Once the time is up, have the judges come back and declare one team the winner. You can award small token prizes or just let them be first in line at the buffet table.
Kids Crafts
For a children's party or one with a lot of kids, having a craft area set up will keep them busy and give them a small souvenir from the party. Craft ideas include:
Making seashell photo frames
Creating sand art candles
Drawing ocean pictures
Paper plate fish
Seashell painting
Indoor Beach Party Food
Plan your beach party menu around delicious summer fare. Barbequed hot dogs and hamburgers are a great option. You can use an indoor grill if the weather is not cooperating.
Chilled summer salads are easy to make ahead of time and can be put on ice in a cooler. Good salads include:
Potato salad
Coleslaw
Mixed fruit salad
Marshmallow salad
Jello salad
Dig out your favorite summer party recipes to use for indoor beach party ideas for food.
Drinks can be placed in a kitschy cooler, like an inflatable surfboard cooler or a palm tree cooler. Have plenty of water, soda, lemonade, and other party drinks available for everyone.
Set the food up buffet-style and use picnic tables for seating. Serve food with bright plastic dinnerware and have plenty of fun paper plates for easy clean-up.
---
An indoor pool party is a great way to beat the yucky-weather blahs. It also makes an excellent graduation or birthday theme. Use these ideas to help you start planning your indoor party today.