Easy-to-Make Luau Finger Foods
Updated January 25, 2022
These Hawaiian inspired recipes will give the guests the opportunity to mingle while enjoying delicious Luau finger foods. From traditional savory Hawaiian appetizers, such as Spam musubi and pork hash to sweet treats made with fresh fruit and flavors inspired by the tropical islands.
Spam Musubi
Spam musubi is a sushi-like appetizer that combines Japanese and Hawaiian cuisines. It's a thick slice of sticky rice topped with fried spam and wrapped with a strip of nori seaweed. If you don't have a musubi mold press, you can use the Spam can lined with plastic wrap or mold it with your own hands. Yield: 10
Ingredients
2 tablespoon soy sauce
2 tablespoon light brown sugar
½ teaspoon mirin (optional)
1-2 teaspoon vegetable oil
1 (12-ounce) can Spam, cut horizontally into 10 slices
5 sheets nori seaweed, cut lengthwise into two
2 teaspoons furikake
4-5 cups cooked short-grain white rice
Instructions
In a small bowl, whisk together the soy sauce, sugar and mirin. Set aside.
Coat a large skillet with oil and heat over medium. Fry the Spam slices until brown crispy (about 2- 3 minutes on each side). Turn off the heat. Quickly add the soy mixture and coat Spam slices in glaze evenly. Transfer Spam slices and glaze to a plate.
Lay nori seaweed sheet rough side up on a flat working surface.
Place musubi mold press in the center of the nori seaweed sheet. Spoon about 2/3 cup of cooked rice into the mold. Press down rice to pack tightly into about 1- inch thick. Pull up the mold to release the nigiri (rice block).
Place a grilled Spam slice on top of nigiri.
Wrap the nori seaweed around the nigiri and Spam slice. Seal the edges with a little water.
Grilled Pineapple
Grilled pineapple is great on its own, or you can make extra and use it to top a burger. You can cut them in smaller pieces, wrap them in bacon and pop them in the oven or air fryer. The possibilities are endless when it comes to grilled pineapples. Yield: 6 servings
Ingredients
1 large ripe pineapple
3 tablespoons of honey
1 tablespoon of fresh squeezed lemon juice
½ teaspoon of freshly ground pepper
Instructions
Cut the top and bottom off of the pineapple.
Cut the skin off of the pineapple.
Slice the pineapple in half and cut out the core from each side.
Turn each half of the pineapple over so the flat side of the pineapple is on your cutting board.
Slice each half in half again lengthwise so you now have four quarters.
Slice each quarter into four pieces slicing the pineapple crosswise.
Mix together the honey, lemon juice, and pepper.
Brush the glaze on the pineapple slices.
Get the coals of your grill good and hot.
Rub your grill with oil so the pineapple slices do not stick to the grill.
Grill the pineapple pieces about four minutes on each side.
Be careful not to overcook the pineapple or it will become mushy.
Beef Satay
Satay is not a native dish of Hawaii but is now found on just about every menu in Honolulu. In fact, many of the dishes that you are likely to find in Hawaii are strongly influenced by Asian cuisine. This recipe is good on its own or with some dipping sauce. Yield: 24 skewers
Ingredients
24 bamboo skewers soaked for at least one hour in water
1 pound of beef (tri-tip, brisket, or any steak that you like to use)
1 ½ inch thick piece of peeled ginger root, chopped fine or grated
4 cloves of garlic pressed
¼ cup of teriyaki sauce
3 tablespoons of vegetable oil
2 teaspoons of fresh coriander
2 tablespoons of rice wine vinegar
2 tablespoons of lemon zest
1 tablespoon of lemon juice
¼ teaspoon of crushed red pepper flakes
1 tablespoon of hoisin sauce
Instructions
Slice the beef, against the grain, into ¼ inch thick slices.
Weave the beef strips onto the skewers.
Mix together the ginger root, garlic, teriyaki sauce, vegetable oil, coriander, rice wine vinegar, lemon zest, lemon juice, crushed red pepper flakes, and hoisin sauce.
Place the beef skewers into a 9x13 pan and pour the marinade over the beef skewers.
Toss the beef skewers in the marinade to coat. Cover, and let rest for at least an hour in your refrigerator.
Grill on a hot grill for 2-4 minutes on each side. They cook fast so watch them.
Dipping Sauce
This sauce is perfect for the satay skewers.
Ingredients
1 cup sugar
½ cup sake
½ cup soy sauce
1 ½ thinly sliced green onions
1 clove of garlic, minced
¾ teaspoon grated ginger
Instructions
Mix all the ingredients in a small saucepan.
Place the saucepan over a medium high heat.
Bring the mixture to a boil and then reduce to a simmer.
Simmer the mixture until it has reduced to one cup.
Let the dipping sauce cool before serving.
Pork Hash
Pork hash is Hawaii's take on the classic Chinese steamed dumplings. These steamed, open-face dumplings filled with pork and shrimp will be a big hit at your event. Have soy sauce ready for dipping. Yield: 32 servings
Ingredients
1/2 pound ground pork
1/2 pound shrimp, peeled and diced
1 egg
1 can water chestnuts (8 ounces), drained and diced
2 green onions, finely chopped
3 cloves garlic, minced
1 tablespoon cornstarch
2 tablespoons soy sauce
2 tablespoons oyster sauce
1 tablespoon sesame oil
1 teaspoon white pepper
1 package round dumpling skins
Instructions
In a large bowl, mix together pork, shrimp, egg, water chestnuts, green onions, garlic cornstarch, soy sauce, oyster sauce, sesame oil, and white pepper.
To assemble the hash, place a small spoonful of the filling in the center of dumpling skin. Fold the edges up and wrap around the filling. Making sure you keep the top open.
Set the steamer basket over a pan or wok of boiling water. Steam dumplings for 20 minutes.
Enjoy dumplings by dipping them in soy sauce.
Teriyaki Meatballs
Teriyaki meatballs are wonderful over rice, noodles or simply served as appetizers. Be sure to have toothpicks and napkins available when serving these delicious meatballs. Serves 6.
Ingredients
For the meatballs:
1 pound ground beef
¼ cup bread crumbs
3 tablespoons soy sauce
2 tablespoons brown sugar
2 tablespoons garlic, minced
2 large egg whites
For the teriyaki sauce:
1 (15 ounce) can crushed pineapple
½ cup soy sauce
¼ cup brown sugar
1 pinch garlic salt, or to taste
Ground black pepper to taste
2 tablespoons cornstarch
½ cup cold water
Instructions
For the meatballs:
Preheat oven to 350 degrees F. Line a baking sheet with foil or parchment.
In a large bowl, mix ground beef, bread crumbs, soy sauce, brown sugar, garlic, and egg whites for meatballs together until well combined.
Roll mixture into balls (about 1 oz each). Transfer balls to prepared baking sheet.
Bake meatballs for 25 minutes.
For the teriyaki sauce:
Combine pineapple, soy sauce, brown sugar, and pepper in a saucepan over medium heat. Bring to a boil, then reduce to a simmer.
Mix cold water and cornstarch together in a small bowl; add to the sauce. Stir and simmer until desired thickness, 3 to 5 minutes. Add cooked meatballs and cook until heated through, about 5 minutes.
Coconut Shrimp
Coconut shrimp is a crowd-favorite appetizer. Pair them with your favorite dipping sauce for the ultimate Luau finger food. Serves 4.
Ingredients
⅓ cup all-purpose flour or whole wheat flour (spoon & leveled)
½ teaspoon salt
½ teaspoon ground black pepper
2 large eggs, beaten
¾ cup Panko bread crumbs
1 cup sweetened shredded coconut
1 pound raw large shrimp, peeled and deveined with tails attached
3-4 tablespoons vegetable oil or coconut oil
Instructions
Combine flour, salt, and pepper in one bowl.
Beat the eggs in a second bowl.
Combine Panko and coconut in a third bowl.
Dip the shrimp into the flour, then the eggs, and then dredge the shrimp into the coconut mixture. Set the coated shrimp on a plate.
Add oil to cover the bottom of a large skillet over medium heat. Fry the coconut shrimp for about 2-3 minutes each side.
Place fried coconut shrimp on a plate lined with a paper towel. Serve immediately.
Coconut Balls
These coconut balls are a wonderful option if you are looking for something delicious and guilt-free to serve at your luau party. All ingredients are placed in a food processor then rolled into small balls. You can place them in the fridge before you serve. Yields about 24 balls.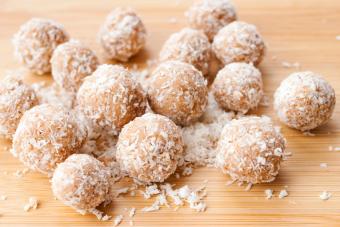 Ingredients
1 cup toasted whole cashews
1 cup toasted macadamia nuts
⅓ cup unsweetened shredded coconut
1 cup large medjool dates, soaked for 5 minutes/drained & pitted
1 cup dried diced tropical fruit mix
2 tablespoons water
⅓ cup fine unsweetened shredded coconut for rolling
Instructions
In the bowl of your food processor, process nuts until a course meal.
Add pitted dates, diced tropical fruit mix, and shredded coconut to the coconut meal. Process again until ingredients are fully combined. Add in 1-2 tablespoons of water for smoother consistency. The mixture will be thick, sticky, and slightly wet.
Roll mixture into balls and coat them with fine shredded coconut.
Mini Passion Fruit Tarts
For these passion fruit tarts, use mini ready-to-use graham cracker pie crusts or pastry shells for quick and delicious semi homemade desserts the guests will be going back for seconds. If you prefer using pie dough, bake them in mini muffin tins. Makes 20 mini pies.
Ingredients
Mini graham cracker pie crust or pastry shells
Egg whites from 1 egg, beaten
1 (4-ounce) can sweetened, condensed milk
¼ cup passion fruit pulp, plus extra to serve
⅓ cup fresh lemon juice, strained
Instructions
Preheat oven to 375 degrees F.
Bake mini pie crusts or pastry shells according to packaging instructions.
Whisk the condensed milk, passionfruit pulp, and lemon juice in a bowl until well combined. Spoon mixture into each pie crust shells and bake them for 10 minutes or until just set. Set aside for 5 minutes to cool slightly before transferring to a wire rack to cool completely.
Top them with fresh passion fruit pulp.
Hawaiian Pizza
Hawaiian pizza is a must at any luau party. To minimize time in the kitchen, use store bought pizza crust. Yield: 8 slices
Ingredients
Large pizza crust
½ to 1 cup pizza sauce or marinara
2 cups shredded mozzarella cheese
6 ounces Canadian bacon or ham diced
4 strips bacon cooked and crumbled
1 (8-ounce) can pineapple, drained and diced
Instructions
Preheat oven to temperature recommended on the pizza crust packaging.

Place pizza crust on baking sheet or pizza stone.

Spread pizza sauce. Top with cheese. Spread Canadian bacon, bacon, and pineapple over the top.

Bake on lowest oven rack until cheese is bubbly and crust is browned.

Cool for a few minutes before slicing and serving.
Ham & Cheese Sliders
Ham and cheese sliders are simply delicious and quick to make. They make the perfect finger food for picky eaters if you are planning on hosting a kid-friendly luau party. Makes 12.
Ingredients
¾ cup melted butter
1 tablespoon Dijon mustard
1 teaspoon Worcestershire sauce
1 teaspoon brown sugar
1 tablespoon poppy seeds
2 teaspoons dried minced onion
12 King's Hawaiian dinner rolls
9 ounces thin sliced deli ham
8 ounces thin sliced Swiss cheese
Instructions
Preheat oven to 350° F.
Spray a 9×13-inch baking dish with non-stick spray.
Combine butter, mustard, Worcestershire sauce, brown sugar, poppy seeds, and dried onion in a separate bowl.
Slice the rolls. Remove tops and set aside. Place the bottom pieces into the prepared baking dish.
Layer the ham and Swiss cheese onto the rolls.
Place the tops of the rolls onto the sandwiches.
Brush mixture evenly over the rolls.
Bake 20 minutes, until the rolls are lightly browned and cheese has melted.
Separate into individual sandwiches to serve.
Set the Mood With Luau Finger Foods
Now that you have your Luau Party menu covered, planning your luau party decorations is essential for a cohesive look. Keep the party going with enjoyable background music and exciting games, such as coconut bowling and hula hoop obstacles.