Ideas for Outdoor Party Lights
If your outdoor party is going to last into the evening hours, check out these ideas for outdoor party lights to keep your guests from heading home when the sun goes down. Remember to provide light not only for the main party location but also for any paths and walkways leading to the party.
Unique Light Strings
Buy Now"
If you're going to string lights up around your party venue, look for unique designs that won't be mistaken for Christmas lights. A metallic floral cap makes these white lights really shine. You can also find fun designs like chili peppers and flamingos.
Solar Lights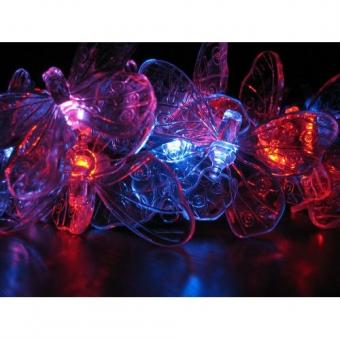 Buy Now"
Solar lights are an eco-friendly way to brighten things up. They provide a subtle glow to your outdoor party, and are available in both utilitarian styles and whimsical designs like butterflies and frogs.
Luminaria
Luminaria aren't just for Christmas. They can also light the way along the path to your outdoor celebration. Use paper bags in a color that matches your party décor or cut out themed designs in the bags.
Candle Centerpiece
Candle centerpieces will provide intimate lighting at an outdoor event. Use battery-operated candles to avoid worries about candles blowing out or burning down before the end of the night.
Paper Lanterns
Paper lanterns are traditional Asian decorations, but they can brighten up any event. Swaying in the breeze, they provide a welcoming sight.
Rope Lights
With their flexibility, rope lights are great for outlining areas, such as an entryway to the house. They're also available in a variety of colors to match any party atmosphere.
Torches
Torches are especially fitting at a luau, but they're appropriate for any warm weather celebration. They're versatile – you can plant the stick anywhere in your lawn to provide light exactly where you need it. Citronella torches serve double duty in lighting walking paths and keeping insects at bay.
White Lights
White lights provide a touch of class to any event. Hang them around the edges of a canopy, create a starry sky inside a tent, or accent the food and drinks table with a bit of sparkle.
Bonfire
A blazing bonfire may provide all the outdoor party lights you need. Roast hot dogs or marshmallows over the flames, or just enjoy a cozy time singing songs and telling stories. The ideas for a bonfire night party slideshow can help you make the most of a roaring fire.