Retirement Cake Sayings
There are endless ideas for retirement cake sayings. What better way to celebrate a retirement than with a festive cake to mark the occasion? Cake sayings can be as simple as "congrats" or something more elaborate. Sayings can also reflect the retiree's interests or hobbies. Be creative and come up with something special that the retiree will enjoy.
Say It In Candles
A saying can be spelled out with candles. This idea is both cute and eye-catching and is something unique. Decorate the cake as you please and get candles in letters that match the colors of the cake.
Simply Stated
A simple congratulations may be all you need on a retirement cake. The retiree is sure to appreciate the sentiment and will enjoy the decadent dessert as well.
All In Good Humor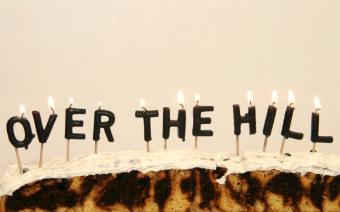 If the retirement party is light and humorous, an over the hill cake is the perfect complement to this type of retirement party. Send the retiree off in a light-hearted manner with decorations and a cake to match the theme.
Token of Appreciation
Say thank you with a cake. Have the words "Thank You" written on the cake and decorated in a coordinating color. This sentiment is sure to let the retiree know how much he or she has been appreciated.
To The Future
Who knows what the future holds? Wish the retiree a happy future with a cake that states "To The Future". This sentiment can sum up your well wishes and send the retiree off to a future with hope and happiness.
Endless Possibilities
Retirement cake sayings have endless possibilities, and even funny retirement quotes should be considered. Tailor the saying around the retiree and the theme of the party. Some other sayings to use on the cake can be:
Honoring your years of service
You made it!
Happy Retirement!
Gone Golfing!
We will miss you!
Remember, there are more uses for the cake than just dessert. Cakes make great table centerpieces as well.