Save Money
If you're looking for a way to reduce your event budget, free printable party invitations are a great option. However, the advantages of printable invites go far beyond the potential cost savings. These invitations can be customized in various ways, giving you lots of freedom to create something perfectly suited to your party or gathering.
Personalize Your Invitation
Once you find the printable invitation design that you'd like to use, follow the instructions provided by the designer. Once you have your copy, you can insert your own touches like adding names and dates, or even extra images. Printable invites also offer you more opportunities to include additional information inside, such as directions to the party venue, the menu being served, or special instructions for guests.
Designs for All Ages
Online invitations offer both colorful cartoon characters and elegant imagery, with everything in between. You can further customize your invitations by using colored or patterned card stock or paper in a design or shade that reflects the occasion and age of the guest of honor. Bring out the craft supply box or your stash of scrapbooking gear to further embellish the invitations with ribbon, foam shapes, or other decorative touches.
Designs for All Occasions
Printable party invitations can be generic or created for almost any type of event. From Christmas parties to Halloween parties to retirement celebrations, there are all kinds of different designs to browse through. Themed paper to print your invitations on can be found at office supply or craft stores, and you'll often find matching envelopes as well. Always print off a test invitation on plain paper first to make sure your sizing and alignment is correct.
No Artistic Skill Required
Combine detailed, colorful invitation designs with a color printer and you'll have professional-looking invitations with little to no fuss! Most printable invites are set up so that several of them will fit on a single sheet of paper. Once they're printed, all you need to do is cut them out and fold them.
Fit Your Theme
Many printable invitations are created with specific themes in mind. If you're having trouble finding the perfect match, however, there are several ways to incorporate your theme into a generic printable invite, in addition to using printed paper.
Add a small handful of confetti inside the invitation, in colors to match the theme. Pale blue or pink would be perfect for a baby shower, for example.
Pick up colored envelopes, such as green or red for a Christmas party.
Add a few embellishments, like a pink border outlined in glitter for a girls' princess-themed party.
Include a poem or verse, which you can print out separately if necessary, that fits the theme.
Remember the Important Details
Make sure that you don't forget to include all of the important details about your party when making your own invitations. All invitations should include the date, time and location of the party, along with R.S.V.P information. If there is a suggested dress code or something guests should bring to the event, you should also include this information.
Check Your Printer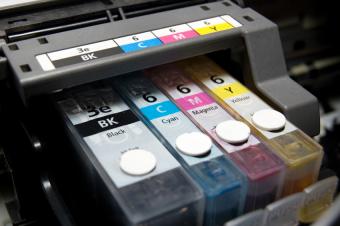 Once you've selected the invitation you want to use and have your paper or card stock ready, check your printer to ensure that it's running properly and the ink is fresh. Print out one of your invitations on regular printer paper first to test all of the ink colors as well as formatting and alignment. Then, use your chosen invitation paper to print out one more test invite. Once you know that everything is as you want it, go ahead and batch print the rest of the invitations.
Print Just What You Need
One of the nice things about printable invitations is that you can create the exact number of invites you'll need for your party. After printing them out, make sure to save the template for the invitations on your computer. You never know when you'll need an extra invitation in a hurry!
Printable Party Invitations
Whether you're looking for invitations to a child's birthday party or creating ssomething more formal like a wedding invitation, printables allow you to customize your invites with full control over the finished product. Look for inspiration for your own printable invites here: