Successful Thanksgiving Celebrations
Are you looking for ideas to help keep your celebration on track and encourage everyone to stay engaged with one another until the day is over? Many friends and families begin their celebration early, starting with food preparation in the morning, and continue until the early evening hours. Follow these hosting ideas to keep everything running smoothly on the big day.
Greet Guests Outside and Inside
While you may not want to cover your home or yard in images of Pilgrims and Native Americans, you may want to have a few decorations outside and in that reflect the autumn season and harvest.
Consider having a corn shuck, hay bales, scarecrow, and fall colored floral arrangements to greet guests as they arrive. Inside, a few maple leaf garlands and a few floral arrangements are small additions that add a lot to the décor.
Set Elegant Thanksgiving Table
A beautifully set table is one of the highlights of a Thanksgiving dinner. Typically, this is a seated dinner, regardless of whether courses are served plated or family-style. Choose a Thanksgiving centerpiece with candles for an elegant lighting display and seasonal napkin holders and placemats to bring the theme together. Use your best serving dishes and dinnerware on this special holiday.
Thanksgiving Crafts for Kids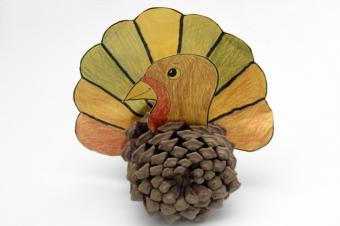 Keep the kids busy while the adults are preparing dinner by having several Thanksgiving crafts available. Children will enjoy making Pilgrim and Native American faces on paper plates, or they can make a turkey craft like the one to the left. Simply provide large pinecones, crayons and turkey templates for kids to create their own festive birds.
Give Thanks for Everyone
Before dinner begins, religious families often have a blessing. Many families, religious or not, also name one or two things they are thankful for in their lives. Put a twist on this Thanksgiving tradition by having family members write one thing they are thankful for about each other guest and then putting it at the guests' place setting anonymously. This will surely be a treasured keepsake long after the party is over.
Traditional Turkey Dinner
No Thanksgiving party is complete without the traditional Thanksgiving feast. Most guests are happy when hosts stick to simple, comfort food ideas like:
Turkey
Mashed potatoes and gravy
Beans
Scalloped corn
Sweet potatoes
Biscuits
Serve red or white wine for the adults and a sparkling grape juice to children for an elegant drink to top off the holiday dinner.
Decorated Desserts
Pumpkin and pecan pie are synonymous with Thanksgiving, but that doesn't mean there isn't room for some new Thanksgiving party dessert ideas. Have kids join in the preparations by decorating Thanksgiving cookies or cupcakes.
To make the Pilgrim hat cookies at the left, pour chocolate ganache over marshmallows and allow it to harden. Top a round fudge-covered cookie with the marshmallow, affixing it with some royal icing. Add some yellow royal icing to complete the hat design of the cookie. Place cookies in a clear cellophane bag and tie with an orange and yellow ribbon for a Thanksgiving party favor.
Thanksgiving Game Play
Thanksgiving games are another way for adults and kids to have fun in the fall. Football is one of the most commonly played activities on this holiday, but virtually any game your family and friends enjoy is a good game to play. Scrabble or charades with Thanksgiving themes are good group games to play.
Prepare for Christmas
For many people, the end of Thanksgiving is the start of the Christmas holiday season. Due to this, many families finish their celebration by decorating the Christmas tree at the host's home. This is also a great way to combine the two holidays if the family cannot be together at Christmas.
For more Thanksgiving party ideas, see: