Throw a one-year celebration as sweet as carrot cake and as darling as a storybook with a somebunny is one party theme. With a lineup of bunny treats, bunny party decor, and the most adorable details, your little one's first birthday will be the hoppiest day of the year.
Start With Soft & Pastel Decor
Include Floral & Nature-Inspired Decorations
Make all the little bunnies at your party feel right at home by including plenty of floral or nature-inspired decorations. Baby's breath, greenery, and wildflowers will give your little one's party an elegant feel. Forest details like moss, tree stumps, and small woodland animals will help your bunny party feel more rustic and organic.
Add Vintage Flair
Elevate the vintage vibes for your somebunny is one celebration. Use antique tea cups and party plates, throw a vintage tablecloth on your dessert table, and use a sweet little vintage highchair for your little bunny's cake moment. You can even encourage guests to come dressed for a vintage-inspired event.
Feature Famous Bunnies
Make your bunny celebration a hit with kids and adults by featuring a few nostalgic or famous bunny characteries from television, movies, and literature. Try Peter Rabbit, Max and Ruby, Bugs Bunny, The Mad Hatter, or Thumper for a blast from the past or a modern take on the most beloved rabbit characters of all time.
Serve Bunny-Inspired Appetizers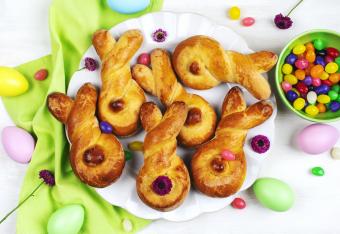 There are countless ways to include fun bunny shapes in the food at your party. Serve bunny-shaped pretzels and pull apart breads. Use bunny-shaped cookie cutters to create cute bunny sandwiches, or cut out colorful bunny-shaped fruit bites. Also include a fun "bunny food" like carrot sticks with ranch or a simple salad in a cup for guests to munch on.
Make Bunny Cut-Out Cookies
Offer a sweet snack for all your bunny party guests. Bunny-shaped cut-out cookies are easy to make and will feed a small crowd. Frost them in white for a neutral party aesthetic or offer them in pastel for a colorful party treat. Don't forget a few carrot-shaped cookies and sprinkles!
Swap Traditional Birthday Cake for Carrot Cake
If you're looking to serve an understated but crowd-pleasing birthday cake, offer a spiced carrot cake everybunny will love. Keep the look elegant with simple layers and shaved carrots and walnuts for toppings. Adults will love having this grown-up birthday cake while kids dine on cookies, cupcakes, or sheet cake. You can save your bold bunny cake decorations for your little one's smash cake.
Choose a Cute Bunny Smash Cake
When it's time for the first birthday candle and your little one's unforgettable cake smash, choose a darling bunny cake that is as cheerful as your birthday girl or boy. Go all out with white or gray fur frosting, a little pink nose, and the floppiest edible ears you can find.
Plan a Smash Cake Photo Shoot
Your little bunny's first birthday is one you will always cherish, so plan for a sweet photo shoot before or during the party. A darling outfit, yummy cake, and a collection of candid shots will give you a beautiful keepsake in honor of the special day.
Dress Your Bunny for the Birthday Bash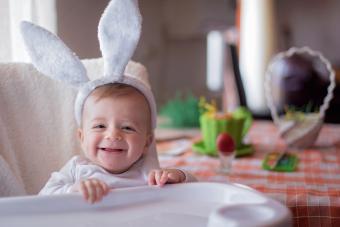 You only get a few years to dress your little one in adorable getups, so take advantage of that for their first birthday. Grab the sweetest floppy-eared bunny suit you can find and let your guests gush over the cuteness. Be sure to grab a few photos before the cake smash makes its mark.
Host a Sweet First Birthday Celebration for Your Little Bunny
Show the world how excited you are that somebunny is turning one. Plan a bunny-themed bash you will look back on for years to come. Remember, you can plan out all the details and include all the sweetest decor, but the most important thing is to celebrate your baby's first year of life in a way that feels right for your family.