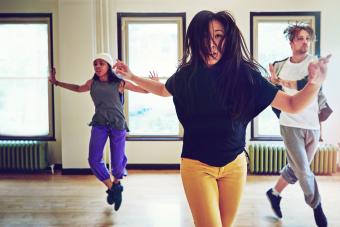 Commissioning a choreographer to create a routine for you is extremely expensive so it may be more economical to use a free routine posted online. Alternatively, you can get inspiration from a free routine (or a music video) and make changes so it's your own. For the routines below, click on the photo for each dance to open a printable instruction sheet, and use these tips if you need help.
Contemporary Popular Dance
This contemporary routine straddles the border between several dance genres, appealing to the popular style but utilizing jazz and stage dance steps and lyrical artistry. Choreographed for Pink's song Perfect, it's best to use the clean version of this song for competition and performance, regardless of whether you believe children may be present.
Intermediate Tap Routine
While many of the steps in this routine are basic moves, combining them requires intermediate proficiency in tap dancing. In addition, the more advanced you are, the faster you can complete the steps, making the routine more impressive. Don't forget tap dancing is not only about speed; the clarity and volume of your sound are also important. The best tap dancers can perform without music because what the audience hears is as impressive as what they see.
For ease of learning, start by slowly executing each individual step. Only after you have learned the individual moves should you try to combine them. With the combinations in place, watch yourself doing the routine in front of a mirror. Relax your arms and body for an authentic look.
Kick Line for a Group
Nothing portrays a better group effort than a chorus line. This routine is designed so even absolute beginners can make it look dazzling.
For best visual effect, organize your dance team by height (tallest in center or at either the right or left extreme), or put any men in the middle (if there are only a few), or organize the line in a rotating boy, girl order if there are equal numbers of male and female dancers.
Online Resources
In addition to step-by-step instructions, some online resources for free routines include video instruction. Depending on the type of learner you are, some of these sites may work better for you than others.
MovesNGrooves
MovesNGrooves is the home of virtual dance instructor Simone Maurice. One popular aspect of this site is newsletter subscribers can obtain free dance routines from a master choreographer and dancer. Specialized in contemporary dance, her style is a blend of modern, street, and hip hop, making her routines fun for young, energetic audiences and dancers. With these routines, you can learn how to moonwalk, side glide, spin, and more.
Tone & Tighten
If you really want to get your heart rate up while you learn new routines, try Tone & Tighten's round-up of 10 free dance routine videos. Even though these are presented as fitness videos, you'll learn some new moves from instructors with dance backgrounds you can incorporate into future routines. There are cardio dance routines, a routine for beginners, Zumba, and more taught by a variety of instructors.
Brambilabong
Brambilabong offers tutorials and teaches you hip-hop, dubstep, and popping routines by self-taught dancer, Adrian Brambila (aka "El Tiro"). This site breaks down the choreography from other music videos, like Psy's "Daddy" and "Napal Baji," as well. You probably won't want to use the full music video routines in your own performance, of course, but if you want to learn the movements and use them as inspiration for your own choreography creation, these can help.
Learn to Dance
Learn to Dance has a wide selection of dance routines and demonstrations of specific moves. Learn how to dance when you go out with friends or master a few hip-hop moves. Some of the most extensive sections of this site cover salsa, ballroom, country western, and line dancing. There are even sections for Irish step dance. If you want more, there's the option to purchase premium videos (prices vary).
Dance Plug
Dance Plug has a mix of free and paid classes of a variety of types to choose from. Free routines include contemporary, hip-hop, and lyrical dance. When you take a free class, you'll see the intro, a run-through of the routine, and then you'll see the moves in slow motion, count-by-count. At a glance, you'll be able to see how difficult each video will be (whether it's a whole routine or just a specific move to master) and which song will be used in the routine. Once you get to the slow motion section, you'll be able to see the instructor from the back as well as the front. Finally, you'll have the opportunity to go through the whole routine at tempo with music, following along with the instructor, again with the back and front view.
YouTube
With a wide range of different dance genres, YouTube has a vast selection of videos, some of which are instructional.
Of course, it would be unethical to copy any dance routine exactly unless given explicit permission by the dancer herself. The videos and choreography are copyrighted and the property of the choreographer, the dancer, and sometimes also the videographer. It is considered polite to send an email or letter to the choreographer even if you are simply using their moves for inspiration.
Developing Dance Routines
If you can't find a choreographed routine that is perfect for your performance needs and within your budget, consider developing your own based on a free one. While free routines are often short and there is not much variety in dance genre or music available, a short free routine is a good starting point. Learn the steps and perform them in front of a mirror or with fellow dancers to give feedback.
Once you have figured out the style of the routine, you can add to it. Don't forget many routines, or parts of them, can be repeated in order to bring a short clip up to a full-length dance. While some dance competitions and performances can be as short as 30 to 45 seconds of dancing, you'll likely want a full song's worth for a talent show or recital. With a little creativity, you can flesh out a short routine to whatever length you and your team require.