Dinner Party Centerpiece Ideas
Flower arrangements are traditional dinner party centerpieces. Rather than sticking to traditional bouquets in clear glass vases or baskets, choose a centerpiece that has a special element. Put an arrangement together that has a unique twist, such as using tropical blooms, an unconventional pot or vase or unexpected flowers.
Plants
Not all fresh centerpieces need to use flowers. A small potted plant can make a lovely and simple centerpiece. Consider using herbs, wheat grass or even a cactus as your table centerpiece. Look for a simple but unique container for the plants to dress up the greenery, such as a teapot.
Summer Centerpieces
Warm weather parties, luaus and tropical parties call for a centerpiece that reflects the summer theme. Sand candles, starfish or conch shells are great centerpieces to use.
Fancy Centerpieces
A fancy dress party requires a fancy centerpiece. Choose an extravagant centerpiece to create a spectacular table. Look for centerpieces with feathers, beads or rhinestones. A dramatic centerpiece is one that won't be forgotten.
Simple Centerpiece
Simple centerpieces are perfect for casual dinner parties. Place apples, pears, oranges or even lemons in a plain bowl in the center of the table. Additional simple centerpieces include:
A large pillar candle
A single flower stem in a plain vase
A dessert tower
Seasonal Centerpieces
Seasonal and holiday centerpieces do not have to be gaudy or tacky. Look for ways to bring the season or holiday onto the table without going over the top. A small pumpkin covered in mums is a refreshing change from a traditional Thanksgiving or fall centerpiece.
Table Runner
Hosting a large dinner party can create issues when you need to place several centerpieces on larger tables. Instead of making multiple centerpieces, create one that stretches the length of the table. Green garlands with fruits, flower blooms or petals, and spaced candles all look lovely on a special occasion table setting.
Modern Centerpieces
Contemporary centerpieces do not have to be avant garde pieces of art. Embrace a minimalist look by choosing an elegant candle that sits atop stacked glass plates for a modern yet elegant look on a dinner party table.
Classic Party Centerpieces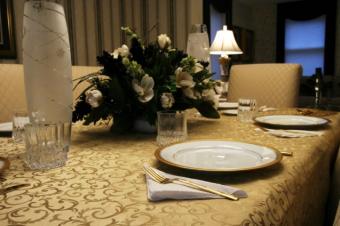 A flower arrangement is a classic choice for a dinner party centerpiece. Pick an arrangement that matches the dining room décor, party color scheme or is seasonally blooming. Opting for a timeless, floral centerpiece is never a bad decision when it comes to choosing the centerpiece.
Find more ideas for table decorations in LoveToKnow Party's slideshow Party Table Centerpieces.