Holiday hosting tips can help you plan for overnight guests. With a little pre-planning, you can enjoy a stress-free holiday when hosting overnight guests.
Holiday Hosting Tips for Overnight Guests
Make a list to keep you on track with pre-arrival preparations. Divide your list by rooms to make preparations easier to tackle.
Tip 1: Disinfect and Clean
In the age of COVID-19, you want to disinfect your home. Pay extra attention to the guest bedroom and bathroom.
You want to use a good disinfectant that you can spray in the guest bedroom to kill any airborne germs.
If you have more than one bathroom, designate one bathroom for your family and one for your guests.
Disinfect the sink, faucet and handles, countertop, tub/shower and handles, toilet and handle, and the bathroom floor.
Disinfect doorknobs and cabinet pulls.
Air out the guest bedroom and bathroom to get rid of any residual disinfectant smells.
Clean floors and dust around baseboard, crown moldings, and draperies/curtains.
Add air freshener or bowl of potpourri if needed.
Tip 2: Get Organized for Company
Before guests arrive, get your home in order. Clear up any cluttered areas to present a peaceful and relaxing atmosphere for the holiday festivities. Don't put off this important project. Start a couple weeks prior to the holiday to ensure you have plenty of time for other timely chores.
Organize your dinnerware, glassware, and silverware.
Place a holiday centerpiece on dining table.
Polish any sterling silver you intend to use.
Wash and prepare table linens, such as a tablecloth and cloth napkins.
Tip 3: Prepare the Guest Bedroom
You want your guests to feel comfortable during their stay. You can make them feel at home by providing a great guest room retreat. If you have room, a pair of comfortable chairs invite guests to enjoy private time to relax. If you don't have enough space for other furniture, you can provide a pair of bedrest pillows so guests can lounge in bed when not enjoying family/group activities.
Add a holiday arrangement or decoration in the bedroom.
Organize bed linens and use fresh sheets and pillowcases to make up the guest bed.
Drape a throw over the bottom of the bed.
Provide two blankets for the guest bedroom.
Put two extra pillows on the guest bedroom closet shelf
Make sure the guest closet has room for your guest's clothes.
If you have a TV for your guests to enjoy, replace the remote control batteries with new ones.
Make sure the lightbulbs in overhead lights and table lamps work.
Create a basket of essential items, such as hand sanitizer, a pair of masks, disinfectant wipes, lens cleanser and a soft lens cloth, hand cream, lip balm, and facial tissues.
Tip 4: Guest Bathroom Preparations
You want your guests to have everything they could need. Someone always forgets something when backing for an overnight stay, so make sure you provide lots of extras just in case. You can place the items in a basket along with a welcome note to encourage your guests to use these items if they wish.
Towels, wash cloths, and toilet paper
Holiday soaps and hand towels
Two-pack of toothbrushes
Toothpaste
New hairbrush and comb
Nail kit
Travel sewing kit
Deodorant
Extra soap
Body wash
Shampoo and conditioner
Tip 5: Clean Up and Make Repairs
Take time weeks ahead to clean up around the house and make any necessary repairs. If you plan to decorate for the holiday, you can do it in advance. If you have a broken door handle or a tear in a screen door, repair these before your company arrives.
Fix any appliances that aren't properly functioning.
Replace burned out lightbulbs.
Spruce up the outside of your home to make the front entrance inviting.
Hang a holiday wreath on the front door.
Replace the doormat with a festive one.
Clean outside lights.
Trim any overgrown shrubbery.
Rake leaves and dispose of them.
Pressure wash driveways and patios if needed.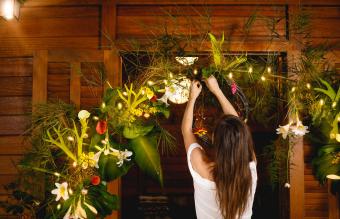 Tip 6: Stock Up on Snack Foods and Drinks
You want to be the best host, so ensure your guests have plenty of foods to snack on and an abundance of drink choices. Take an inventory of your pantry and place an order the week before your guests arrive.
Tip 7: Guest Coffee Maker in Bedroom
You can set up a small coffee maker with cups, sugar, and creamer in the bathroom or on the dresser. Place everything on a tray, to prevent ruining your furniture. You can provide a basket of snack foods and a small cooler filled with water bottles and sodas. If you have a dorm room sized refrigerator, place it in the guest room for their stay. These amenities will make your guests feel at home and not have to worry about disturbing the household should they be early risers or night owls.
Tip 8: Prepare Foods in Advance
You can make life easier for yourself by preparing foods in advance and placing them in the freezer until needed. You can cook breakfast casseroles, breads, pastries, pies, cakes, and other holiday desserts. Be sure to accommodate any special food requirements your guests may have. You can prepare cookie doughs and freeze until you wish to bake.
Tip 9: Provide Laundry Basket
If your guests are going to be with you for several days, you can provide them with a laundry basket tucked away in the guest bedroom closet. This conveys the message that they should feel free to make use your washing machine and dryer during their visit.
Tip 10: Accomodate Children Guests
If you are hosting children guests, you can have them bunk with your own children or, if social distancing measures are still in effect, provide a sleep space for them in the guestroom. Depending on the age of the child, you may need to take steps to childproof your home. Provide easy to sanitize toys and games for your child guests and keep them sanitized with a bleach/water solution.
Tip 11: Provide Guests With Local Area Information
Provide your guests with information about the local area for any free time they might have. This will free up your time of entertaining your guests for other hosting activities. This information can include your favorite shopping spots, restaurants, parks, movie theaters, malls, and local attractions.
Use Holiday Hosting Tips for Overnight Guests
A few holiday hosting tips can make your holiday easy. When you are organized and prepared, you can enjoy your overnight holiday guests.