Celebrating Thanksgiving online can be fun when you include a few exciting new ideas. When you celebrateThanksgiving online, you can connect with all your family members or friends, not ordinarily part of your in-person Thanksgiving celebrations.
1. Celebrating Thanksgiving Online With Video Chats
You have several platforms to choose from for online communication with your family and friends when celebrating Thanksgiving. The two most popular ones are Zoom and Skype.
Alternative Live Chat Video Calls
You can also FaceTime with family members if you have an iPhone. Not everyone uses Apple products, so you may need something that works across platforms like Google Duo that works on various devices, including desktops and supports group calls up to 32 people. If all your family is on Facebook, you can use the live video chat for unlimited time to connect to eight people. Families can gather around a laptop, tablet, or cellphone to video chat.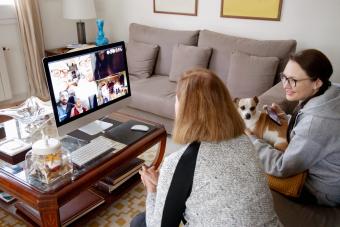 2. Thanksgiving Craft Hour
You can set up ahead of time a specific craft everyone can do. Each household family will order the craft supplies, so they are ready on Thanksgiving day. Each household will set up a video camera to share their family's crafting efforts. It's best to put a timer on this activity so everyone is finished, and you can go on to the next group activity. You can set the video camera up in the kitchen or dining room to show the table as your family works on the craft. When time is up, everyone will reveal their creations! You can also award a digital prizes (pre-planned) if you like in the form of an Amazon gift certificate or movie rental.
3. Netflix Party
Some families have special movies they watch every Thanksgiving or have the tradition of watching a new movie together every Thanksgiving. With Netflix Party, your family can still watch that movie together on a laptop and desktops. You can also enjoy the side bar chat feature that allows you to text each other during the movie.
4. Play Online Thanksgiving Games Together
If your family always plays board games on Thanksgiving Day, you can still do so online. You have several options for online board games.
Discord for Online Video Gaming
You can use Discord, a video, voice, and text communication service that is similar to Skype or Zoom. However, Discord was created specifically for online video gamers so they could talk or text their friends while playing games together. You will sign on to Discord, connect with your family and then join an online game platform like Steam.
Multi-Player Online Board Games
You can use Steam, a multi-player platform that allows you to purchase and play games by sending invitations to those you wish. You and your family can still play your traditional game of Monopoly. Another popular online platform is Rento that allows up to eight players.
5. Order a Treat for Each Household
Celebrating Thanksgiving online can be one of new traditions and surprises. Have each household select a treat (set a price range) and place an order so it is delivered a day or two before Thanksgiving. This can be a dessert, candy, cheese, coffee, or other type of treat. Your family should decide together what type of gift and the cap for expenditure.
Opening Thanksgiving Treats
Before each household opens their gift, the secret Santa household reveals itself and tells why they are thankful for the household they gifted. The household members then open the gift and show it off to everyone on the video call. That household then calls out the name of the household they drew and tell why they are thankful for that household of family members and continues until everyone has opened their Thanksgiving Thankful gift.
#6 Cook Thanksgiving Dinner Together
If you want to keep the Thanksgiving dinner tradition going, plan for your family to video chat while you prepare the meal. Make sure everyone has all the ingredients before turkey day. You can joke around, share embarrassing stories of past Thanksgiving meals, and have lots of fun with your family.
#7 Share Your Thanksgiving Meal as a Family
Once your meal is ready, move the video chat to the dining room and eat together. This can be fun since you will be able to see and hear each other and compare how each dish turned out!
#8 Go Black Friday Shopping Together Online
Shopping online isn't new, but doing it with your family online might be for you. You can use any of the mentioned platforms to share your great finds. Select a website you wish to shop together and using Zoom or another video chat platform, talk about what you're finding. You can share the links to the items you like and/or purchased. This is a fun way to spend time shopping with your loved ones.
#9 Livestream Football Games With Chat Feature
Yahoo News is live streaming NFL and local Primetime games through Yahoo Sports mobile app. This free service is limited to three people on the video text chat, but if you have two brothers, or a dad and favorite uncle, that might be just enough so you can share watching the game together.
Celebrating Thanksgiving Online With New and Old Traditions
Whether you are separated by distance or for some other reason, you can still enjoy celebrating Thanksgiving with your family by using online resources. You can blend these new unique ways to celebrate Thanksgiving with old family traditions for a 21st century hybrid Thanksgiving celebration.