Creative Ideas for a New Year's Eve Celebration Online
A New Year's Eve celebration online offers you creative ideas and fun ways to ring in the New Year. The first step is to select a virtual platform for your New Year's Eve celebration online and then invite your guests.
Ideas for a New Year's Eve Celebration Online
If you're concerned about COVID-19 and have decided to stay in for New Year's Eve, you can watch the Ball Drop at Times Square in New York city online. The live webcast is free of commercials and is free to anyone wishing to watch the livestream broadcast.
Virtual New Year's Eve Party
You can host a Zoom New Year's Eve party and broadcast the Times Square celebration and Ball Drop to enjoy with your friends. There are numerous video chat platforms you can choose to host your virtual New Year's Eve celebration online.
Zoom: You can host a free Zoom session for 40 minutes with up to 100 guests.
Skype: You can have up to 50 people on a Skype call that is free. Calls to cellphones require a monthly subscription fee.
Facebook: You can launch a Room on Facebook Rooms to start a video chat and invite up to 50 friends to join you with no time limit on how long you can use the room.
Creative Ideas for Virtual New Year's Eve Party
Once you've decided on the platform for your New Year's Eve celebration, you can add a few things to make it extra special. Depending on the platform, you may have several options that range from lighting to virtual effects such as the ones available for Facebook Rooms.
Add a Virtual Background
Most of the platforms allow you to create a virtual background. You can make it a festive holiday setting cozy with a warm fireplace, choose a nighttime cityscape with fireworks, or other background. You may decide to decorate your home to use as your backdrop for livestreaming your virtual New Year's Eve party.
Preparations for Your New Year's Eve Celebration Online
The first thing you want to create is the invitation to your virtual New Year's Eve party. You can use an online tool, such as Evite or create your own virtual invitation to send out via text or email. Whatever method you choose to create your New Year's Eve celebration online, be sure to include the date, time, and link to your party.
Other Information to Include in Invitation
The other things you want to include in your invitation is whether your party is causal or formal. Many people who haven't been out-on-the-town lately might appreciate getting dressed up for your virtual New Year's Eve party.
Party Decorations, Hats, and Noisemakers
You can put together New Year Eve's party packages to snail mail to your guests. This could include New Year's party decorations, hats, horns, noisemakers, tableware, balloons, streamers, and other party favors. If your budget is limited, you can include the link to the party theme you've selected, so those guests who wish to use the same party decorations can order their own. Suppliers like Party City and Oriental Trading are a couple of favorite choices.
Start a Group Text Message for Ideas
You can create a group text message to share ideas on ways to celebrate. By providing links to ideas and how-to instructions, your guests will be inspired and motivated to join in the fun to create their own themes for the big party!
Champagne and Hors D'oeuvres
It may prove cost-prohibitive to send each guest a bottle of champagne and hors d'oeuvres. Sending alcohol through the mail may be illegal in some states. A good alternative is to provide a virtual menu that guests can duplicate, so everyone is enjoying the same foods. If you prefer, your invitation can simply read, BYO and let everyone choose their favorites.
Create a Playlist
A party isn't festive without some music. It's easy to select the music you want to play in the background while your guests mingle in the virtual chat. The music should be play low enough to allow your guests to talk over it.
Dance the Night Away
You may have a segment during your virtual New Year's Eve party where you provide music so guests can dance either with a partner or by themselves. Choose what part of your celebration you want to introduce the dancing break and have fun.
Play Games Online
You can include a few games to play online as a group. These can be fun word games, charades, and even a scavenger hunt for things inside your guests' homes. Other popular games, such as this or that questions or would you rather questions, are a few examples of virtual games to play during your virtual New Year's Eve party.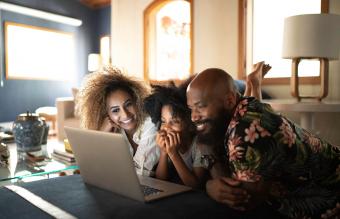 Share Photos of Each Other
You can liven your game by showing photos of each other. This can be from previous New Year's Eve celebrations or simply fun times you had together. You can ask each guest to stop what they are doing and take a selfie to share during the party and on their social media. You might suggest they add a few virtual touchups to make the photos humorous or dramatic.
Screenshots for Mementos
You can take a few screenshots during your New Year's Even celebration online to create a memento. You can create a collage of these images in a virtual scrapbook page to send to your guests a few days after your party.
New Year's Predictions Game Time Capsule
Before the Times Square Ball Drop, ask everyone to make a prediction about one or more of your guests for the new year. This game can be a lot of fun, so you can set the tone by being the first one to make a wild and crazy prediction about one of your guest's future for the new year. Write down each prediction and save on your cloud like a time capsule. Next year, you can do the big reveal by opening the time capsule and see who made accurate predictions.
Creative Ideas for Your New Year's Eve Celebration Online
You can have a fabulous New Year's Eve celebration when you host an online party. You can have a successful New Year's Eve party when you plan ahead and choose activities specific to a virtual world.