Hosting Thanksgiving for the first time? What an exhilarating milestone - but it's also one that can feel a bit intimidating at first. It's natural to feel both excited and a bit nervous, but don't worry - you've got this! Think of your first year hosting Thanksgiving as your time to shine and put your unique spin on a wonderful celebration to enjoy with people you love. Add a pinch of helpful Thanksgiving advice to the hosting skills you already have, and your first Thanksgiving gathering is sure to be fabulous.
Helpful Hacks for Your First Thanksgiving
Okay, so it's not your first Thanksgiving - you've been a guest many times. But, hosting Thanksgiving is not the same as going to turkey day at someone else's house. Not to worry, though! Armed with this collection of turkey day tips and hacks, you'll absolutely have the hosting savvy to pull off an amazing holiday feast.
Survey the guests to get a sense of their favorite must-have Thanksgiving foods.
Use a slow cooker to keep sauce-based foods warm throughout the meal.
Wrap cooked meats in foil to help keep them warm and juicy as long as possible.
Make some desserts that don't require refrigeration to conserve precious fridge space.
Invest in some nesting food storage or meal prep containers to save space in the fridge.
Clean out a few ice chests and store ice in the freezer to accommodate fridge overflow.
Purchase some takeout containers so it'll be easy to offer guests leftovers to take home.
Cut down on after-party clean-up by using recyclable paper plates and cups.
Use the tips below to plan an awesome Thanksgiving feast that's sure to shine a light on your hosting skills.
Don't try to micromanage every little detail of the big day. Instead, enjoy your guests and accept their compliments.
Don't let a small kitchen kill your vibe. Discover how to cook a big Thanksgiving meal in a small kitchen.
Choose a Gathering Time
Has your group traditionally celebrated Thanksgiving at noon, 4 p.m., or some other time? This year, the time is up to you. It's fine to stick with the traditional time or to make a change, as long as you are considerate of your guests. Find out what time everyone prefers by surveying the invitees, then use their input to select a time that will work for everyone. Once you decide, let people know the time well in advance. After all, some may be attending multiple Thanksgiving meals on the same day.
Get a Sense of the Guest List
Before you can dive deep into planning your first Thanksgiving as host, you'll need a good sense of how many people to expect. Around a month before Thanksgiving, reach out to everyone you usually spend Thanksgiving with to find out if they'll be attending this year's celebration at your place. For a personal touch, you can call or text to ask. Or, opt for the more formal route of sending Thanksgiving invitations that include an RSVP request. The choice is yours!
Survey the Seating Situation
Don't forget to think about where everyone is going to sit for their meal. If you need to improvise extra space for people to sit, ask some of the guests to bring folding tables and chairs or TV trays they may have rather than (or in addition to) contributing a dish. If you can't get enough seats that way, ask your friends who are going elsewhere for Thanksgiving if they have some you can borrow. Anyone who regularly hosts gatherings surely has a few folding table sets tucked away in a closet.
Request Info on Dietary Needs
Thanksgiving Day is not the time you want to discover that someone in the group has special dietary needs. Once you know who's coming, ask each person to let you know if anyone in their party has special dietary needs you should consider when putting together the menu. That way, you'll know if there are any known allergens to avoid using, as well as if you should prep (and label) a selection of dishes that are sugar-free, vegan, gluten-free, etc.
Make a Main Event Menu Plan
Getting to be in charge of the menu is of the best parts of hosting Thanksgiving. Craft a tasty menu that includes traditional Thanksgiving dishes, some flavor-filled side dishes, a selection of seasonal beverages (both cocktails and nonalcoholic beverages), plus some delectable desserts. You don't have to do it all! Once you've chosen a basic menu, share it with your guests and encourage them to bring a dish (or two!) to build out an even more impressive spread.
Order Must-Have Items in Advance
Would Thanksgiving just not be Thanksgiving without a cake from your favorite bakery or a pan of stuffing from the restaurant where your family celebrates special occasions? Place your order for these must-have items well in advance of Thanksgiving. That way, you can be sure to score your spot on the list before they stop taking holiday orders. Ideally, you'll want to pick up your items at least two days before Thanksgiving to avoid a mad dash in holiday traffic the day before.
Select Your Shopping Strategy
Avoid the last-minute supermarket rush by planning out your Thanksgiving shopping list in advance. Use your menu to make a list of all the items you will need. Identify any that you have on hand and set them aside so you don't use them up before the big day, then make a list of what you need to buy. Shop for nonperishables a few weeks before Thanksgiving to avoid the last-minute rush, then go back for fresh produce and other perishables early in Thanksgiving week (ideally Sunday or Monday).
Make Room in the Fridge
Wondering where you are going to put your Thanksgiving haul? The time to decide is before you go to the store, not after. In the days leading up to your turkey day shopping trip, use up any leftovers you have in the fridge to make space for what you're about to bring hope. You may also want to do a fridge cleanout to get rid of open containers that are past their prime. That way, you'll have space, and your guests won't accidentally add out-of-date salad dressing to their Thanksgiving meal.
Thaw the Bird (Safely!)
Don't let yourself wake up on Thanksgiving Day to a turkey that's still frozen solid. Large turkeys (and hams too) need a few days to thaw, so take them out of the freezer about three days before you will cook them. It's very important to thaw meat safely, so whatever you do, don't just put frozen meat in the sink to thaw at room temperature. It's best to place a thawing turkey in a bowl or roasting pan (so it doesn't drip) and let it thaw slowly in your refrigerator or in an ice chest for a few days.
Pre-Set the Thanksgiving Table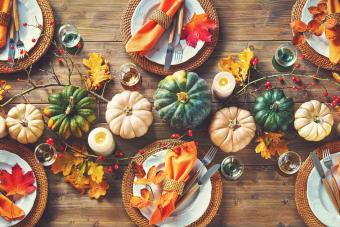 You don't have to wait until just before the big meal is served to set up the buffet table or areas where guests will eat. Put any extra tables and chairs in place a day ahead of time and get the buffet station situated so it's ready for the yumminess that's in store for the next day. Go ahead and put tablecloths and fall centerpieces in place, and decide how the serving line will flow. Put trivets on the serving surface so it'll be easy to situate dishes as they are ready, along with plates, utensils, and napkins.
Rise and Shine
Set your alarm on Thanksgiving Day so you can get up early and take care of all the details that couldn't be handled in advance. Start the day with coffee and a healthy breakfast so you'll be at your best all day long. Go through your to-do lists and compile one last list to handle before everyone arrives. If there's more left to do than you expected, all is still good. Simply call a few of your favorite guests and ask if they can come over a bit early to help--chances are they'll be glad to pitch in.
Keep Up With the Kitchen
Before you start cooking and heating items on Thanksgiving morning, get situated to keep things as simple (and clean!) as possible. Unload the dishwasher before you begin so you can add dirty items to it as you go. Have a plan to minimize the number of bowls and utensils that are dirty at one time. For example, when you finish with a mixing bowl, clean it and reuse it rather than sticking it in the sink and getting another one out. Wipe the countertops and stovetop areas as you go so they stay clean.
Be Proud of All You Have Done
When the doorbell rings and the first guests start to arrive, take a deep breath and pat yourself on the back. You did it! Your first Thanksgiving celebration as a host is in progress! There's nothing left but to smile, welcome your guests, and enjoy the big day. No matter what comes next, you've got it handled. This is sure to be the first of many holiday celebrations you will host - and at which your mad entertaining skills will shine!