Valentine's Day Cake Designs
Look through these decadent Valentine's Day cake designs to find something sweet for your sweetie on the holiday known for putting your heart on your sleeve. A personally baked and decorated cake is the perfect ending to a romantic evening.
Basketweave designs are often reserved for Spring, but break out the chocolate frosting to create a heart-shaped basket that is perfect for Valentine's Day. Fill with buttercream or royal icing roses to create a basket bouquet out of cake.
Shiny Gel Hearts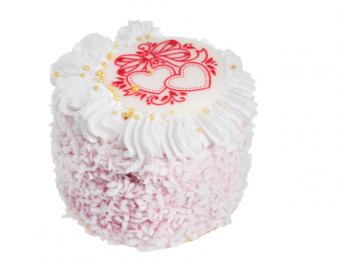 Use a toothpick to trace a Valentine's Day design onto the top of your cake. Trace over the toothpick marks with an edible red gel. The gel makes the design shine, versus using a simple icing.
Classic Red Heart
Nothing is more appropriate for Valentine's Day than a heart-shaped cake covered in red fondant and roses. Shape the roses using sculpting fondant or white gum paste.
Sweet Valentine's Day Present
Give your honey a delicious present for Valentine's Day-cake! This cake is covered in white fondant and small hearts are affixed using buttercream or royal icing. If you cannot make a ribbon and bow using gum paste or fondant, simply use a clean ribbon and remember to remove it before slicing.
Stacked Heart Cakes
Reserve a little cake batter to make a cupcake-sized heart and cover in the same fondant as a large heart. Then stack the two cakes together for a tiered cake with a twist.
Individual Message Cakes
Use a large heart-shaped cookie cutter to make individual size cakes from a sheet cake. Cover with buttercream frosting and then use chocolate letters to spell out a message for Valentine's Day. These are perfect for kids, sweethearts, parents and even teachers.
Elegant Valentine's Cake
Create an elegant Valentine's Day cake instead of the typical over-the-top decorated cake. The one at the left features chocolate pieces atop a heart-shaped cake with a single pink rose in the center.
Roses Are Red
Red roses are a symbol of love, so make one the highlight of your Valentine's Day cake. Craft a large rose using gum paste or fondant and place in the center of a tall cake. Matching details, such as a ribbon through the center and ruffled edge, complete this simple but lovely design.
Abstract Valentine's Day Cake
An abstract design for Valentine's Day is perfect for the man in your life, or for bringing to all of your officemates. Decorating is easy, too. Drizzle a little chocolate syrup in an abstract design on the top. Use a large cake wrapper or edible paper with edible ink design to wrap the edges, and then add two red candy or fondant hearts to the top.
More Valentine's Day Cake Ideas
This heart-shaped cake takes the border up a notch by making it red instead of typical white, and using a scalloped design, too. Fondant imprinting tools make creating borders easy.
Your sweetheart is sure to love any one of these Valentine's Day cake designs. If an entire cake is just too much for two, consider baking up some delicious Valentine cupcakes.