One of the most exciting times during a woman's pregnancy is finding out if the baby is a boy or a girl. Gender reveal parties are increasing in popularity and games played at these events provide a fun way to keep the suspense going or reveal the actual gender, depending on the game you choose.
Old Wives' Tales Chalkboard Game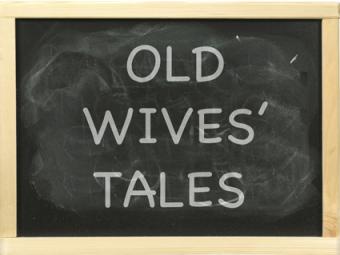 Stories about gender prediction extend through all cultures and throughout history. This fun game utilizes popular old wives' tales and turns them into an interactive way for guests to guess the baby's sex. The finished chalkboard also makes a nice party decoration.
To play, you'll need a tabletop chalkboard and sticks of chalk in pink, blue, and white. You'll also need a good list of pregnancy old wives' tales. Then, follow these instructions:
Choose at least six of the old wives' tales and list them in white chalk.
To the right of each tale, write the girl answer in pink and the boy answer in blue.
Give guests a sheet of paper and ask them to write their guesses based on what they know about the mom-to-be.
Later, ask Mom to circle the answers that match her experience during the pregnancy.
Guests tally to see how many they got right, and Mom's circled answers remain on the board to show which gender the signs appear to indicate so they can be compared against the final reveal.
Team Boy/Team Girl Sports
The options for this game are almost limitless, but the theme is the same regardless of which sport you choose to play. It's also perfect if you have kids at the party.
Divide your guests by sex into Team Boy and Team Girl. Or, if there's an uneven number of males and females in attendance, assign a team captain for each gender and ask the captains choose people for his or her team.
After teams are chosen, signify each team by pinning on a blue or pink ribbon to each player's shirt.
The teams compete against each other in one or more predetermined games. Throw footballs into a tire hanging from a swing, play a softball game, or run an old-fashioned potato sack race.
Award small prizes to the winning team.
Reveal whether the winning team was the right gender immediately or let guests know they will find out later in the party.
Pink and Blue Candies
Guessing the number of candies in a jar is another traditional game that translates well to a gender reveal party.
Fill a large glass vase or jar with blue and pink candies. These can be jelly beans, M&M'S, or mints in colored wrappers.
Place more blue candies in the container if baby is a boy, or put in a few more pink in if it's a girl.
Set out small pieces of paper and a pen and ask guests to guess the number of candies of each color.
The guest who gets the closest number wins a prize.
Don't forget to let guests know that the larger winning number also reveals the baby's gender!
Confetti Balloon Game
Perfect for an outdoor warm-weather gender reveal party, this game can be assembled in an hour and provides a physical way for each guest to contribute to the unveiling of the baby's actual gender. You will need a piece of plywood cut to approximately 3 feet x 4.5 feet, 30 or more opaque black latex balloons, heavy duty thumbtacks, darts, and confetti in the color that matches the baby's gender.
Using a small funnel, pour confetti into one balloon before blowing it up and tying it off.
Fill all the remaining balloons with air and knot them closed.
Attach full balloons to the plywood with thumbtacks in a grid pattern. Tack below the knot so you don't risk popping the balloon prematurely.
When it's time to play, prop the balloon board against a tree or a wall that cannot be damaged if a dart hits it.
Guests then take turns throwing the darts to pop a balloon, hoping to hit the one filled with confetti.
Alternatively, put only empty balloons on the board, then bring out the confetti-filled one after all the empty ones are popped. Or, fill some of the balloons with white or yellow confetti to heighten the suspense.
Ultrasound Name Game
Clear 3-D ultrasound images of baby's face are particularly fun for this game. To play:
Display the baby's ultrasound photos along with a stack of small pieces of paper in pink and blue.
Ask guests to look at the ultrasound shots and make a guess of the baby's sex based on what they see. To make the suspense last longer, avoid including any overly obvious shots of the baby's diaper area.
Have each guest guess if baby looks more like a boy or a girl, then write his or her name on the corresponding color of paper.
On the back of the paper, each guest should suggest a name for the baby, then drop it into a bowl. Baby name suggestions can be serious or silly.
After everyone has played, have the mother-to-be pull the papers out of the bowl and read the names aloud.
Play this festive activity if you plan another activity for the reveal later in the party.
Exciting Gender Reveal Activities
While a gender reveal party is always an exciting event, incorporating these interactive games can make it a memorable occasion for all involved. Guests are sure to remember whether their guess was the right gender!