Printable Surprise Party Invitations
Let your guests in on the party's big secret with invitations that make it clear the upcoming festivities are a surprise for the guest of honor. Print the invites at home, when you're alone, and you won't run the risk of bumping into the person you're throwing the party for.
Free Surprise Party Invites to Print
To print the invitation above and those below, you'll need to use Adobe Reader and have your printer ready to go. Customize the invitations with all of your party details.
Birthday Invitations
Birthdays are a common party planned in secret, and the lovely lady "shushing" guests above and the "under your hat" invite below will be sure to get the message out.
Invitation for Other Occasions
Retirement parties, showers, going away/welcome home, and house warming parties can also be planned on the sly, and this polka dot "keep a secret" invitation is a great option for these occasions.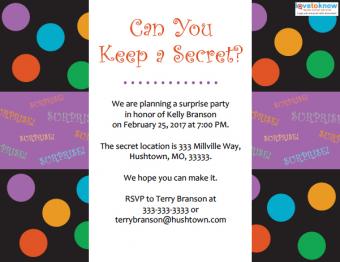 Additional Printable Options
If you're looking for a different invitation card, perhaps with alternative surprise party invitation wording or graphics, take a look at these options:
Surprisingly Easy Invitation Options
Using printable invitations makes this aspect of your surprise party planning easy. Simply choose the one you want, fill in your party's details, and print!