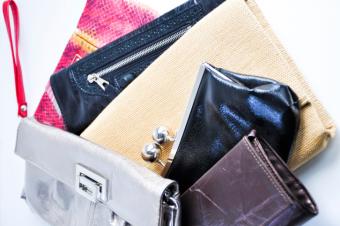 A party featuring purses is a dream for many women. Whether they come to share their love of purses with a special guest of honor or buy some new handbags for themselves, a festive invitation is needed that lets everyone know exactly what the party entails.
Free Printable Invitations for Purse Parties
Both of these invitations can be printed at home for free using Adobe. Use a heavier weight card stock if you plan to turn the invitations into postcards instead of adding an envelope.
Purse Themed Party Invite
The purse-themed party invitation is appropriate for a purse-themed birthday, housewarming, going away party, or even a bridal or bachelorette party. Just fill in the event details and then send to the family and friends of the guest of honor.
Since purse sales parties are fairly common, be sure to include a line that states the occasion and honored person's name, so potential guests don't think they need to buy anything. If your social circle (or that of the honored person) often hosts sales parties, it may be appropriate to include a line at the bottom with wording similar to the following: "Leave your money at home because the only thing we're buying tonight is happiness in honor of Wanda's birthday!"
Purse Party Sales Invite
Shopping for purses is a pastime many find enjoyable. If you plan to host a home business party sales event, use the invitation below. It includes the hostess name, plus a line for the representative and the brand he or she sells. This makes it clear the event is a sales party. You can also add contact information for the representative and a website link for those who cannot attend, or toss in a business card with all the contact information for the sales rep.
Additional Invitation Options
If neither of these party invitations suits your style, consider going with one of the following.
Purse Themed Options
The following invitations are perfect for a purse, fashion, or accessory-themed party for a special occasion:
Zazzle's Purse Invitation has a pastel pink theme and features two fragrance bottles next to a large handbag in the center of the invite. It has a floral border. The inside allows you to fill in the what, when, and where of the party. Pricing is just over $2 per card.
Punchbowl offers a cute invitation design with a variety of purses set on a pin strip background. You can easily customize your invitations with the site's online editing tool, and the best part is that you can download for free.
Sales Party Options
Purse party sales representatives often have invitations featuring their brand and name that you can use when you host a party. However, if they aren't offered or you want something with a little more style, consider these invites:
Expressions Paperie's Green & Brown Polka Dots Purse Party Invitations start at just under $14 for a set of 10. You can customize the wording or use their suggested wording in the example for getting people to your hosted sales party.
Zazzle's 311-Fashionista Handbag Heaven Invitation features a silhouette of a lady with multiple purses and a zebra-striped background. Customize the invitation for your event and add the sales company website to the back side. Pricing starts at just over $2 per invitation.
Parties With Purses
Regardless of whether your party is one for a certain someone special who is celebrating an event or you're hosting a purse sales party, a themed invitation is vital. Word your invitations so guests know what to expect and get ready to party with purses!