A garden is the perfect venue for any party-worthy event. There are plenty of occasions well-suited for a garden party and the setting allows for a wide range of decoration and activity ideas.
Occasions for a Garden Party
While a garden party can be an outdoor party theme in and of itself, it can also be the perfect venue for different occasions using many similar ideas.
Children's birthdays - The garden is a great place for a child's birthday celebration. If you're having a baby boy's first birthday, consider a Peter Rabbit party. If you're celebrating a little girl's birthday party, fairies is a great theme for a garden setting.

Baby and bridal showers - Decorate the garden with lace umbrellas for either a baby or bridal shower in the spring, summer, or even early fall.

Romantic occasions - A garden is the perfect setting for a romantic occasion such as engagement, wedding reception, or an anniversary. The fragrant aroma and beautiful flowers will put everyone in a romantic mood.

Friends' gathering - A warm summer night is reason enough to celebrate. String a few outdoor lights and invite some close friends to celebrate the summer.
Invitations
Let potential guests get a glimpse of your garden theme through your invitation. Use printable garden party invitations or browse through the ones below.
Flowered paper - A simple invitation for a garden party can be created on your home computer. Use a word processor to create the invitation details. Print the invitation onto floral paper. Embellish it with ribbon or silk flowers.
Blank invitation - Perhaps the easiest way to invite guests to a garden-themed party is to use blank invitations that are pre-printed with a graphic on the front. There are plenty of possible options at stationary stores, or you could purchase your cards online. PaperCards.com offers several general card options, like their flower on holographic foil or their flower pot design.
Photo invitation - Take a photo of flowers or your own garden and create your own party invitation at Snapfish or another similar photo card website.
Decorations
One advantage of having a party in a garden is that the environment is already naturally beautiful and does not require a lot of extra decorations. But you may want to add additional elements to enhance the environment or to suggest a more specific theme.
Over-sized flowers - Make large tissue paper flowers or buy some at a party supply store to add a touch of whimsy to the garden setting. You can create flowers in your color scheme to help reinforce it.
Watering cans - Watering cans can add a lot to a garden party. They make a wonderful centerpiece and are particularly appropriate for a shower.
Butterflies and dragonflies - These little, delicate beauties frequent gardens, and hopefully some will visit during your celebrations. You can assure their presence by decorating with feather butterflies which can be found in craft stores. Consider setting entomology balls that feature butterflies, dragonflies, and other insects in garden pails to create a centerpiece.
Fairies - Rumor has it that fairies dwell in gardens, so why not encourage them to reveal themselves by making them feel at home with small fairy dolls and fairy houses around the garden.
Woodland creatures - Squirrels, bunnies and other small critters are the perfect additions to a garden party, particularly for children's parties. Place stuffed animals or figurines throughout the space.
Lace - Lace gloves and doilies on tables will add a feminine touch to decor and will be particularly appropriate for Victorian era tea parties hosted in the garden.
Birds and bird houses - Decorate your garden party with feathered friends and their little houses. Check out the craft store to find feathered birds and painted or plain bird houses to use as décor pieces.
Enhance your garden setting with small twinkle lights and candles in addition to the other decorations.
Food
Every party needs food for help fuel the guests and the fun. Choose a dessert that fits your party theme and then include garden-friendly foods like:
Activities
Keep guests active and entertained by engaging them in a variety of different activities. Garden party activities might include making flower arrangements, decorating clay pots, and even planting seedlings. Other interactive ideas include: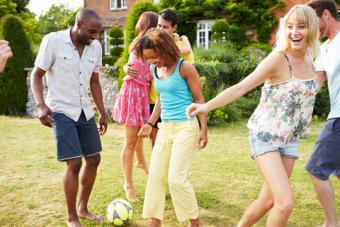 Games - A less formal garden party makes playing backyard party games a great option for staying busy. Set up an area for horseshoes or even soccer.
Live animals - For adult parties, bring living decorations into your party by featuring beautiful birds in cages. If you are hosting a party for a child, consider having a few little bunnies there for guests to pet.
Hands-on fun - Crafts are always a fun way to engage guests. Young children can paint birdhouses with glitter, paints and stickers. Adults can enjoy a fun craft project too, such as decorating a beautiful bonnet or top hat.
Photo booth - Provide theme specific photo booth props for guests to use and capture a whimsical moment forever on film. Provide beautiful hats, over-sized flowers, and sunglasses for guests to wear and hold.
Garden Party Precautions
Take a few precautions to be sure your party goes off without a hitch. Be aware that bees love flowers and you need to make sure that none of your guests are allergic to bee stings to avoid anyone getting sick at your event. Set up an area with shade, such as tables under an awning, and provide sunscreen for guests who forget to apply it before they arrive. Have bug repellent available as well. With these precautions, everyone will enjoy the party without worry.