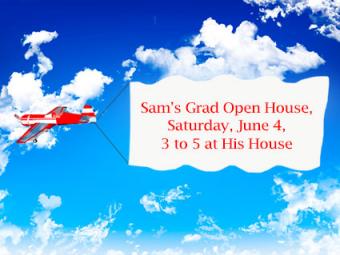 Start your summer of freedom off the right way by incorporating unique graduation party ideas that are sure to make an awesome final impression on your family, friends, and classmates. It doesn't matter if you're graduating from kindergarten or grad school, the unique ideas below will set everyone abuzz with their originality.
Get the Word Out
Let everyone know you're having a special event by getting the word out with one of these ideas that step outside the box.
Skywriting and banners: Open house parties are a come and go event, so why not invite everyone you know? Hire a skywriter or small biplane with a banner to broadcast your message for a few hours when people are out and about. Control the crowd by leaving off the actual house address and using just your name. Follow up with an email or phone call to the VIP attendees.
Character phone call: Hire a voice actor to call everyone on your list in the voice of the graduate's favorite character. This works especially well for preschool or kindergarten graduations where the child's favorite character is Mickey Mouse or another beloved classic character. Older students with a graduation theme can pick a character that fits, such as James Bond for a spy theme.
Pop-up card: If you want to send a more traditional card, make it memorable. Create custom pop-up cards that highlight your school mascot, graduation year, or favorite activity.
Decorations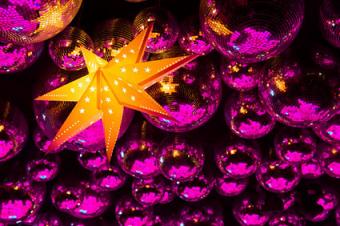 Graduation decorations will make the party come alive. Go over the top with these festive ideas:
Ceiling and wall decorations: Even if you're not hosting a music-themed party, you can really add an element of glam with colorful disco balls. Don't stop with adding one above the food or guest book table. Instead, hang them so that they cover the entire ceiling from wall to wall. Add a few other decorative elements, like your graduation year, stars, hearts, or mascot, to hang lower than the balls and create a second layer of décor in your space.
Table decorations: Turn the entire table into a talking point. Print or photocopy favorite images from the past year (or school career) and tape them to a tablecloth that's been spread across the table. You can even photocopy old handwritten notes, parts of homework assignments, and so on. Place them randomly around the table. Then cover with a clear plastic tablecloth. No matter where anyone sits, they can see the person across from them and have plenty to look at as they eat.
Lighting: Instead of using candles, traditional lamps, or tiki torches, pull out all the stops -- set up lasers and track lighting. Dim the lights indoors during the day and use brightly colored neon lights to line the pathway. At night, set the lighting on timers so they flash and move with your music. Pick colors that coordinate with a theme or use school colors.
Food to Serve
Skip traditional finger sandwiches and cake in favor of some trendy yet delicious options:
Food trucks: Food trucks are a hot new trend for wedding receptions, so they are a natural choice for graduation parties too. Choose several and have them set up in a designated area or choose one that serves a favorite dessert to supplement the rest of the food.
Custom catered stations: Hosting a morning brunch instead of afternoon or evening party? Have a catered omelet station set up in one corner of the party space. Pasta stations, where guests can choose their sauce, pasta type, veggies, and meat options, and have them heated and tossed together, are a great idea for a more formal graduation party in the evening.
Takeout box foods: Use takeout boxes instead of plates to save yourself clean-up and allow guests to feel casual and comfortable at your bash. Match the food served to the kind of takeout box you choose. For example, Chinese takeout boxes can go with foods with an Asian flair, while pizza takeout boxes are perfect for a pizza party. Use Styrofoam boxes for a party with sub sandwiches and chips.
Activities for Guests
Most graduation parties consist of mingling, eating, drinking, and perhaps looking at photos and mementos from the student's school years. Take it up a notch by including a few unique ideas.
Photo collage puzzle: Set out photo collage puzzles at the tables along the perimeter of the party. Kids and adults will have fun putting together images that highlight the student's life rather than staring at a board of basic pics.
Tree of knowledge: Cut a large tree trunk with bare branches out of brown craft paper and tape it to a wall. Cut out green paper leaves and set out permanent markers so guests can write words of wisdom for the graduate on the leaves then tape them to the branches. To set this up outside, choose a tree or shrub with low branches and instead of paper leaves, use index cards with holes and string to hang them up.
Aging photo booth: Photo booths are popular for parties. Go a step further and download an aging app to the digital camera you use. Then let everyone see what they will look like in 5, 10, or even 20 years!
Unique Graduation Party Themes
A graduation party theme with a unique twist is memorable in and of itself.
Sophisticated White Out Theme
An all-white theme is a contemporary, almost futuristic take on the traditional graduation party.
Invitations: Black invitations with white writing is a twist on white invites with black writing.
Decorations: Hang white paper lanterns, use white linens, pick out white tableware, and use white centerpieces. Rent white chairs and make sure the graduate is dressed in white. Print all photos in black and white.
Food: Look for white foods to serve -- pulled chicken in a white wine sauce, pearl onions as the side, and white cake with white frosting for dessert.
Blown Away Balloon Theme
Balloons are a budget-friendly decoration that can be turned into a theme that will blow everyone away.
Invitations: Blow up balloons, but don't tie them, and use a permanent marker to write party details on them. You may need a second person to write while you hold the balloon shut. Then carefully deflate and mail (with instructions to view the info).
Decorations: Create columns, figures of the graduate, mini balloon centerpieces, and statues out of balloons. Hire a balloon artist to create the pieces you need for the party.
Food: Serve drinks in cups with balloon shapes on them and arrange sandwiches in the shape of balloons. A pull-apart cupcake cake in the shape of balloons, or balloon-shaped cookies, are easy dessert options.
Steampunk Theme
Take a cue from the hottest trend in fashion and lifestyle décor and utilize ideas from the Steampunk movement for your graduation party.
Invitations: Send out eclectic invitations that reflect the industrial changes and technological advances of the early 20th century. If you're not up to making your own, pick up a set from Zazzle's options.
Decorations: Break out your Steampunk-themed decorations and collect them in the party area. Add table linens and backdrops in sepia, tan, and black tones. Muted colors are best. Add a few large gears, aviator glasses, balloons, old-fashioned lamps, large clocks, and stacked vintage luggage pieces, and you are set.
Food: The food will be less about what's served (pick your favorite graduation menu) and more about how it's styled. Add an old-fashioned popcorn cart, apothecary jars for candy, and a cake shaped like a gramophone to the usual offerings.
Celebrate Your Unique Experience
No matter what kind of invitations, decorations, food, activities, or theme you include in your graduation party, the important thing is that they highlight the unique experience you had in school. Start with a vision that celebrates you and the rest of the party will fall into place.