Toddler Birthday Party Ideas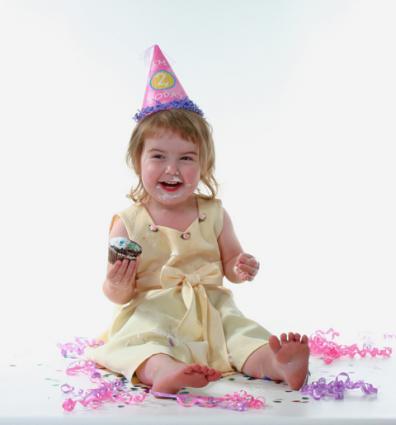 Coming up with a theme for your toddler's birthday party can help add fun and interest. Toddler themes should be age and developmentally appropriate, as well as enticing to children.
Animal Theme
Toddlers love to pretend, and most of them love animals, so, why not invite your child's friends to an animal birthday party? Types of animal themes could include:
Farm animals
Zoo animals
Safari animals
Circus animals
Pets
Reptiles
Birds
Creepy crawlies (snakes, spiders, and bugs)
Noah's Ark
Stuffed animals
Under the sea
Rainforest
Invitations
You can purchase animal-themed invitations or create invitations from printables. If you need help downloading the printables, check out these helpful tips.
Dress-Up
Make the party special by inviting guests to dress up.
Have guests come dressed as their favorite animals, and have an animal parade
Offer face painting
Have children bring their favorite stuffed animal, and have a teddy bear tea party
Arts and Crafts
Short, simple animal arts and crafts are sure to be a hit.
Music
Engage children in musical activities about animals.
Other Activities
You can engage in other animal-themed games such as:
Food
You can serve all kinds of toddler friendly animal-themed foods such as:
Animal crackers
Teddy bear cookies
Rainbow Theme
Toddlers are beginning to learn their colors, so a rainbow-themed party is the perfect theme to tie into this interest.
Decorations
You can find an array of rainbow decorations for parties. For a toddler party, consider:
Streamers
Tablecloth
Paper plates and cups
Party Favors
Simple rainbow-themed party favors give children something to take home after the party.
Place chocolate gold coins in paper cups and place the pots at the end of a rainbow
Give children rainbow stickers
Food
What party is complete without rainbow-themed food?
Invite your toddler's guests to come dressed in the colors of the rainbow. Let them eat rainbow cake with rainbow sherbet. Help them make their own rainbows to take home. Purchase some chocolate gold coins and place them in cups or little plastic pots, then help each child find his or her own pot at the end of the rainbow!
Cowboy/Cowgirl Party
Invite your little cowpokes to the cowboy/cowgirl rodeo party.
Favors
Young cowboys and cowgirls will love western-themed favors like these:
Purchase inexpensive western hats for each child
Wrap favors such as stickers or crayons in a bandanna
Arts and Crafts
Cowpoke fun abounds with these western-themed arts and crafts:
Activities
These active-play suggestions will help your cowboys and cowgirls enjoy a real hoedown.
Pull out some miniature brooms, and let the children gallop around the yard.
If you're really feeling creative, make horses out of swimming noodles.
Play some fun western music for the children to dance to.
Take a whack at a cowboy boot piñata.
Food
Cowboys and cowgirls work up a powerful appetite on the range. Try these fun western-themed party foods.
Make sheriff's badge sugar cookies by cutting sugar cookie dough into a star and writing 'sheriff' on them in icing
Top cupcakes with cowboy hats and boots
Serve food the way cowboys ate it - on metal pie plates
Planes, Trains, and Automobiles Party
This party will focus on modes of transportation, which are endlessly fascinating to young children. You can focus on all aspects, or break it down into a single mode of transportation such as:
Trains
Airplanes
Fire trucks
Race cars
Construction equipment
Favors
For toddler-friendly, transportation-themed decor, you can
Food
Enjoy these cute transportation-themed party foods:
Activities
Simple transportation-themed craft projects and games will keep little hands busy.
Have children color transportation printables
Have children decorate and glue together paper cars and have a transportation parade as kids march them around the party space making the sound of their favorite mode of transportation
Fun and Games
These are just a few of the many themes you can choose for your toddler's birthday. By picking an engaging theme and pursing age-appropriate party games and activities your toddler's party is sure to be a hit.